Join us for the Drive 4 Corners BMW Meet this August in Southern Colorado. The spectacular views and unique mountain roads make this an event that you don't want to miss. Come meet up with other BMW enthusiasts who are looking for a relaxing weekend event based on driving and enjoying their favorite BMW. Register for the event, separately book your room for the desired number of nights, and join us for as many (or as few) event activities we have planned!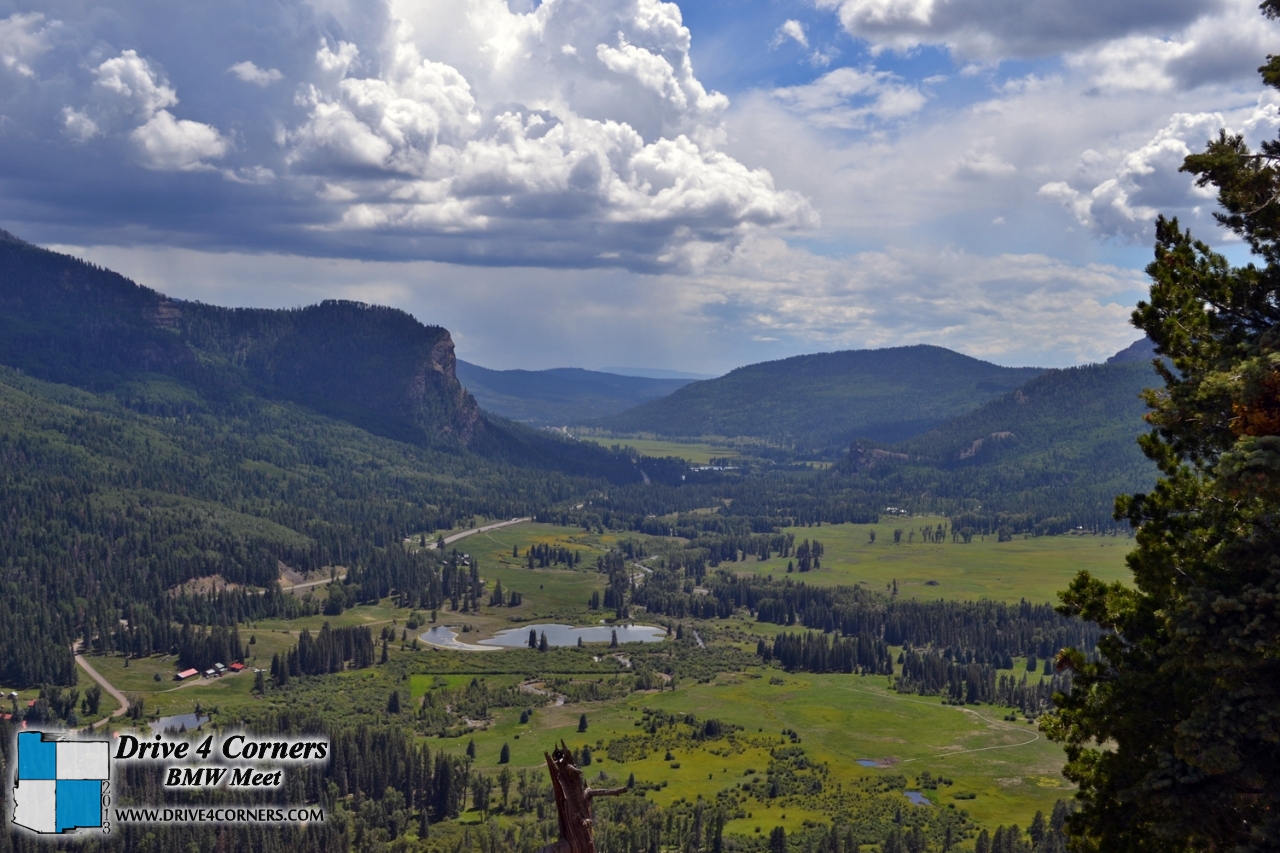 Last year included a few group acitivities such as the drive up Wolf Creek Pass for a photo opportunity and afternoon BBQ! Throughout the weekend, use your event wristband for a discount at the Pagosa Hot Springs, where the hot soothing waters aid in the rejuvenation of the body.
Among other things, there are car events such as a mountain drive, meet and greet, tech sessions, and general BMW enthusiast chat. Some pictures from last year are in our Gallery.

Location: Pagosa Springs, Colorado (158 Hot Springs Blvd. Pagosa Springs, CO 81147)
Date: August 7-10, 2015 
The town of Pagosa Springs offers a variety of activities, specifically those geared towards outdoor recreation. Throughout the year, hunting, fishing, hiking, skiing are just a few of the activities in the available. LEARN MORE!
Distance From:
COLORADO
Durango – 60 miles
Colorado Springs – 242 miles
Denver – 270 miles
NEW MEXICO
Farmington – 95 miles
Santa Fe – 160 miles
Albuquerque – 212 miles
MISCELLANEOUS MAJOR CITIES
Phoenix, AZ – 501 miles
Oklahoma City, OK – 654 miles
Dallas, TX – 658 miles
---
About the Hotel
Located directly next to Pagosa Hot Springs and downtown Pagosa restaurants and shops, the Quality Inn (formerly Oak Ridge Lodge) in Pagosa Springs, CO offers easy access to a wide variety of outdoor recreational activities, including golfing, white water rafting, fly fishing, hiking and biking. This Pagosa Springs, Colorado hotel is also near popular attractions including Natural Hot Springs, San Juan National Forest and Fred Harmon Art Museum.
Guests of the Quality Inn will appreciate comfortable interior corridors that provide easy and safe room access. Pool and hot tub provide a great place for guests to relax, while the on-site Business Center will help business travelers feel at ease knowing they have access to copy and fax services. In addition, there are meeting rooms, with the hotel able to accommodate 160 people for banquets and conferences.
Other amenities include:
Free hot breakfast
Free wireless high-speed Internet access
Free daily newspaper
Fitness Center
All spacious guest rooms offer cable television, coffee maker, hair dryer, alarm clock, iron and ironing board. Some rooms feature a desk, balcony, refrigerator, microwave, whirlpool and sofa sleeper.
This is a pet-friendly hotel, with four-legged friends allowed to stay for a fee. This is a non-smoking hotel.
Address: 158 Hot Springs Blvd, Pagosa Springs, CO, US, 81147 Map/ Directions
Quality Inn Phone #: (970) 264-4173
There will be about 80 rooms available and we will be giving them out at a discounted rate. Although it is peak season we have acheieved the great rate of $79 per night!
How to Reserve your Space:
Register online First. Then, plan your stay by reserving a room at the Hotel. To reserve a room, the number to call is 970-264-4173. Mention BMW meet in August for the special rate. For more information, see Hotel Information above.
---
Frequently Asked Questions:
Q: What is the Drive 4 Corners Meet?
A: A group of like minded auto enthusiasts who enjoy owning, driving, and meeting other people for a weekend of fun. People come to discuss their favorite BMW's and join in on a drive, photo shoot and other automotive past times. Pagosa springs is a great location to cater towards families that are interested in meeting some other BMW owners, but also want to have some fun hiking and exploring, or even soaking at the natural Hot Springs. There is something for everybody!
Q: Where is event taking place?
A: In a small town in south western Colorado, near the 4 Corners region (where Colorado, Utah, New Mexico, Arizona meet) called Pagosa Springs. This small mountain town sits right next to the Continental Divide, and one of the tallest mountain passes in Colorado. Located right between Durango, and Alamosa, Colorado, the location serves perfectly as a central location for the 4 Corners region.
Q: Who sets up this event?
A: This event is set up by fellow BMW enthusiasts just looking to get a group of like-minded folk together for a great weekend with discounted hotel rates. We are a registered not-for-profit organization in the state of CO, and our intent is to build the BMW community in the region.
Q: Does the event allow sponsorship?
A: Yes, this meet actually provides the majority of the benefits and activities through sponsors and volunteers. It is all developed by word of mouth, so sponsors help bring in more people. Contact info@drive4corners.com to help.
Q: What if I wanted to come part way through the weekend?
A: That is absolutely fine– this is a very informal event, so people can pass through and stop in as needed. The Saturday drive and event BBQ are the main events. However, we urge those interested to join us throughout the weekend!
Q: What if i wanted to come part but won't be able to drive a BMW?
A: There is no policy limiting which cars can attend. The goal of the event is to create an event that promotes the average BMW enthusiast and community of owners. There is absolutely no problem with you attending with a different vehicle; it would be great if you could stop by and say hello!
All we ask is that other cars attending are considerate enough to not spoil the photo opportunities. So if somebody showed up in a truck or other make, please be considerate and do not park in the middle of a line of BMW's (especially atop the pass!).
Liability Waiver:
The BMW 4 Corners Meet acknowledges and follows state and local safety laws such as speed limits, stop signs, stop lights, and other traffic laws. The BMW 4 Corners team does not accept, encourage, or condone any driving otherwise. Participants understand and accept all risks associated with the events. The participant also takes full responsiblity for any damages that may be caused by reckless driving, inability to follow traffic laws, failure to acknowledge local traffic and safety rules/ warnings as outlined in the LIABILITY WAIVER . Participants may be required to sign the liability waiver prior to participation of the driving events.