Come one, come all, to the largest annual mountain BMW gathering in the Rocky Mountain Region! 2017 marks the 7th annual Drive 4 Corners BMW Meet and will be a new mark in the D4C history as it will take place at a new location- Purgatory Resort! For more detail on this amazing place and D4C 2017 details, click here!


Official Event dates: Friday, August 25-Sunday August 27, 2017
Check in opens at 6:00pm.
HOST HOTEL: Don't forget to call and reserve a room!
Purgatory Resort
1 Skier Place
Durango, CO 81301
D4C group rate valid for the dates of August 23rd-30th, 2017. Click here to preview pricing or reserve your lodging!
OR
(970) 426-7270. Mention Drive 4 Corners BMW Meet for the special rates.
Preliminary Event Schedule: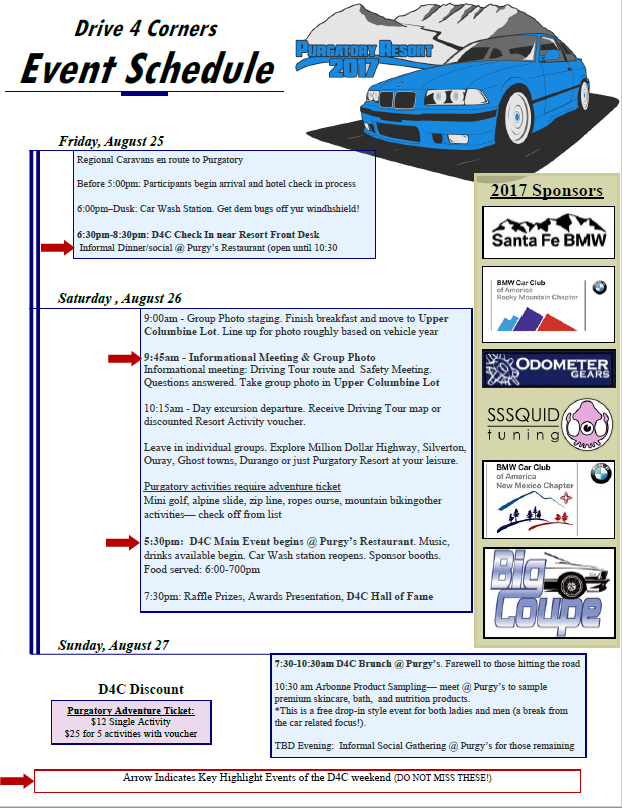 Registration Cost:
Standard Registration: $100 per vehicle
Passenger Registration: $25
Registration includes:
Event name tag and vehicle number used for voting, raffles, and prizes (1 per car/registrant)
2017 wrist band for resort discount and single Saturday night meal ticket(1)
2017 Event Tshirt (1) - Extras may be purchased separately for passengers
Entered into Drive 4 Corners Event raffle
Exclusive lodging rates not available otherwise.

*Registration

does not

include hotel accommodations. Individual room booking may be made at the resort by calling the phone number above.
Please return to this page and add additional items to shopping cart (below) before checking out and completing payment!
---
Additional Items:
If you have a passenger attending the event but not driving, they will need to be named on your registration to receive a meal ticket. However, they will not receive an event tshirt. Additional shirts can be purchased separately or in person at the event while supplies last.
Select additional items below for your passengers.
**By registering, you are agreeing to all aspects of the Drive 4 Corners liability waiver. See HERE**
NOTE: The D4C Event registration fee is a non-refundable cost. If for whatever reason you cannot make the event, the event still takes place. If you are interested in receiving your event shirt(s) and swag, please send an email to the following info@drive4corners.com PRIOR to the date of the event, or your item(s) may be forfeited.
---
See who has already registered: 2017 Attendee List