Drive 4 Corners is proud to announce the 2013 event tshirt design is complete and ready for pre-orders! We have been able to achieve a great discounted price for all those planning to preorder; only $12 for a shirt (in standard sizes)! Price will be $18 at the event in August.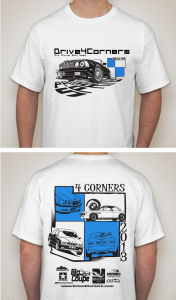 The 2013 event wouldn't be possible without our proud sponsors. Bigcoupe.com has provided exclusive web-hosting and allowed the event to have a central place for event information. Therefore, the feature car of the year is the original BMW 6 Series from 1988! Our artist has captured the detail and essence of the event with the design, highlighting the enjoyment of driving matched with the enthusiasm for BMW's. The logo also includes a variety of other BMW's–including the E87 1 series M, the E36 3 series, The E34 M5, and a classic E9 Coupe!
Visit the Pre-order page to reserve a shirt in your size! The best part– pick up is free if you are attending the Drive 4 Corners BMW Meet in August! If you are unable to make it to the event, add shipping for an additional $7.99!
**At this time, all orders will be shipped the week after the event (Aug 12th). We are exploring the possibility of shipping shirts prior to the event, but this may not be feasible. Drop a note to info@drive4corners.com if you are interested in finding out some additional information about shipping prior.**
Get your orders in prior to the event so that you can ensure that you will receive a shirt at the event. There is no guarantee that there will be enough shirts for all those interested at the event! Additionally, the pre-orders allow us to gauge how many additional shirts to have printed. Pre-order discounts end at noon (MST) on July 25th.
The following two tabs change content below.
Latest posts by Drive 4 Corners (see all)