Mid-June is here! We are almost at the official start of summer and Drive 4 Corners is rapidly approaching! Only 6 weeks until our gathering in Pagosa Springs, Colorado, and we already have registered participants from a total of 10 different states. The D4C organizing team has been working on getting official BMW caravans organized so that everybody make the drive with other fellow BMW enthusiasts. Caravan's are being planned from Denver, Tuscon, Dallas, Santa Fe and Salt Lake City. We know it will be a great turn out! Stay tuned as details for each caravan are released weekly in July.
Additionally, make sure all planning to attend have registered online here.  Event registration ensures that you have access to all of the local discounts and activities that our gathering has to offer. In return you will receive a BBQ meal ticket, 2014 event tshirt, and access to swag, giveaway items, and event awards! The sooner registration is completed, the better it enables us to have proper tshirt availability.
Each registration receives a 2014 event tshirt, and if you cannot make the event for whatever reason, your shirt will be shipped to you free of charge! 2014 shirt design sneak peeks will be realeased until a feature release is presented on July 1st.
Preliminary Weekend Itinerary below (click for larger image).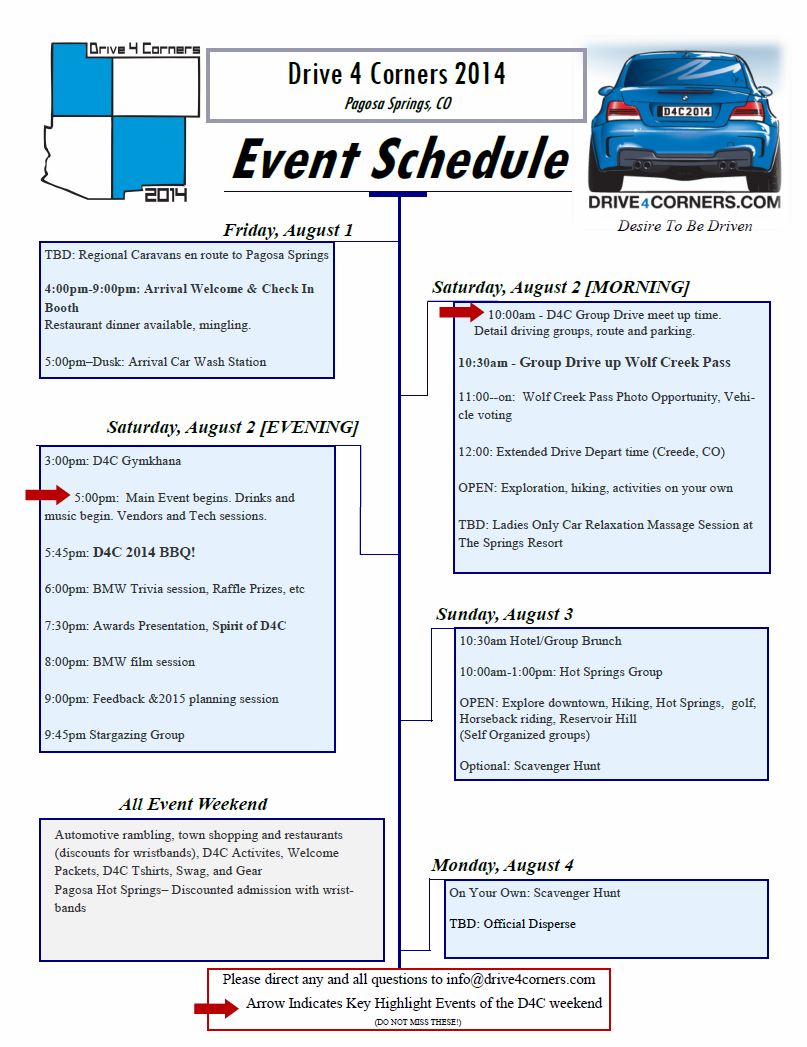 The following two tabs change content below.
Latest posts by Drive 4 Corners (see all)