Summer has come and is already moving past us in a hurry. The good news is that D4C participants have some relief; they will be headed up to the Rocky Mountain driving tour and the Continental Divide for Drive 4 Corners 2019. The 9th annual event will take place this week along four Colorado designated Scenic byways and will be sure not to disappoint! Last minute preparations should be just about complete on any projects you have for your vehicle! If you haven't already, be sure to book your lodging for each individual night stay. We highly recommend you do this ASAP as lodging is limited.
Below is a snapshot of the Drive 4 Corners event. Feel free to participate in as many or as few activities as you are interested in! Review the schedule in advance so you have an idea of the schedule of the weekend. For a detailed .pdf version of the schedule and route map, see the 2019 Detailed Event Route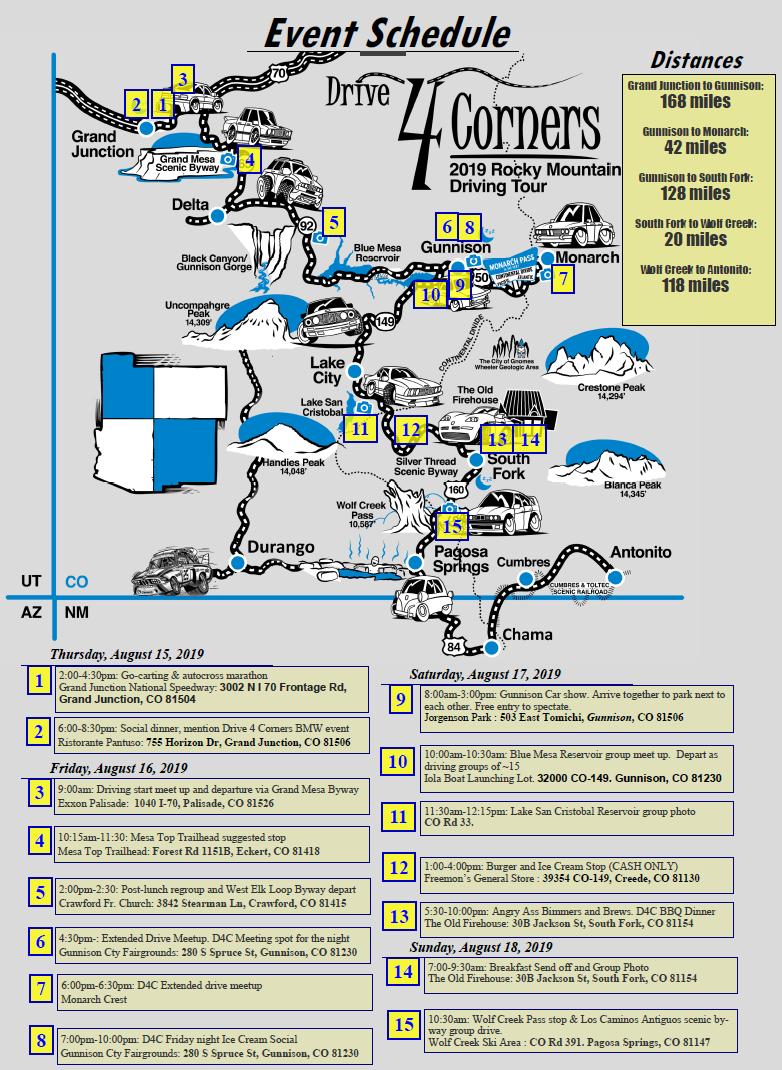 Thursday will be highlighted by a go carting marathon for one hour until our vehicles will be allowed on the course for approximately one more hour. Bring a helmet at your discretion, timing transponders are rumored to be available to us via GJMS. The cost will be approximately $50 per person for the two full hours. That evening, an Italian dinner will allow the group to social and relax after the trip to Grand Junction. This meal is not prepaid.
Friday will be highlighted by two Colorado Scenic byways. Join us at Exxon Palisade for the driving kickoff to D4C. Lunch is on your own, so it is recommended you have a lunch plan via brown bag or a restaurant stop in the small towns. The regroup near Crawford, CO will allow participants to regroup if they have stopped for lunch or a hike along the Grand Mesa. The road next to Black Canyon is an exciting section of road that will be sure to get the spirited driving out of your system.
That night, an extended drive will take place, as will the Gunnison main street shut down. An ice cream social will conclude the evening at our meeting space at the Gunnison County Fairgrounds, included for all of those registered for D4C 2019.
The next morning, a later start will allow participants to get breakfast or briefly see the Blue Mesa Reservoir before another meetup and caravan launches the group south to Lake City. The Silver Thread scenic byway is one that not many people usually take and will be a scenic drive that you are sure to enjoy. Lake San Cristobal and Freemon's General Store are staples of this section of road, we would encourage you to stop at both!
Our sponsor Angry Ass Solutions will be hosting The Bimmers and Brews social evening starting at 5:00pm, so make your way to the Old Firehouse in South Fork to join in on the festivities. Their keg purchase means all of those of legal age can relax will a freshly poured cold beverage. That evening your prepaid dinner will be served at 6:30pm and will be followed by some awards, giveaways and a select number of prizes.
Sunday will begin at the Old Firehouse in the morning where participants can regroup and enjoy breakfast before having to hit the road. This meal is not included with registration but should be reasonably priced for those who attend. The last leg of driving will begin with a blast of the nearby Wolf Creek Pass before continuing on down into New Mexico to see the Cumbres and Toltec Railroad as part of the Los Caminos Antiguous Scenic Byway.
We will have limited space to bring along items available for purchase due to the moving nature of the event. Because of this, we have placed items for sale on our website. This includes additional tee shirts, pint glasses and D4C grille badges available for sale. See all of these items at our Shop Page. These items will only be available to those who preorder them.
Take a look at the 2019 attendee list and see what cars will be attending this August! To change your car from what is shown on this list, please respond to this email. Here is the 2018 Event Highlight Video if you haven't seen it before.
Lastly, please read and be prepared to sign the Liability Waiver if you intend to drive with the group for any section of the weekend. We do not condone speeding or unsafe driving and will only allow participation in the driving aspect of the event with acceptance of this waiver.
The following two tabs change content below.
Latest posts by Tom Schultz test #2 (see all)