Drive 4 Corners is proud to announce a special rate for BMW Ultimate Drives Vol. I. Coterie Press has worked to secure a discounted price for those interested in a full color book of this sort – only $40 [including shipping]! This unique book captures the essence of BMW prior to the energy crisis of the 80's. Back when big V8 engines were a common theme of BMW, back when luxury meant full leather upholstery, back when somebody like Elvis would buy a BMW for touring Europe. Those days are gone, but BMW Ultimate Drives captures the icon of these machines along with the unique stories and experiences of the owners. The large photographs show why many of these BMW's are dream machines, and it is a must have book for any BMW enthusiast!
Call the number below and mention Drive 4 Corners:
Tel: +1 303 933 2526
Email: coterieltd@aol.com
"Packing BMW's dream machines from 75mph pre-war icons, to the 230mph supercars of the 21st century into an 80,000+ word book project, full of the finest original photographs, was a long held fantasy of author Jeremy Walton. His aim was to move his work from the earlier 'Unbeatable BMW' racing tales, to how it feels to drive the best of the best from BMW…We thought you should know how it feels to steer such a seductively rare combination of V8 power and art in motion. As you'll see by whisking through the contents of Volume 1, Jeremy Walton and chief photographer William Taylor went for a bit of both, from affordable gentlemen's cars to million dollar babies."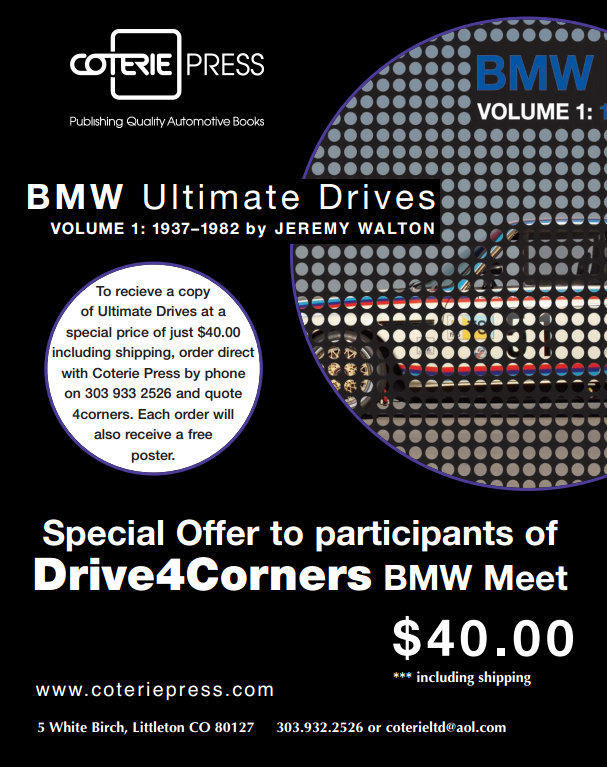 The following two tabs change content below.
Latest posts by Drive 4 Corners (see all)