We have had a resurgence of votes for our caravan planning in regards to Drive 4 Corners 2014. This is only good news, and means that 2014 marks a significant point of growth in our BMW 'Driving Destination' and gathering.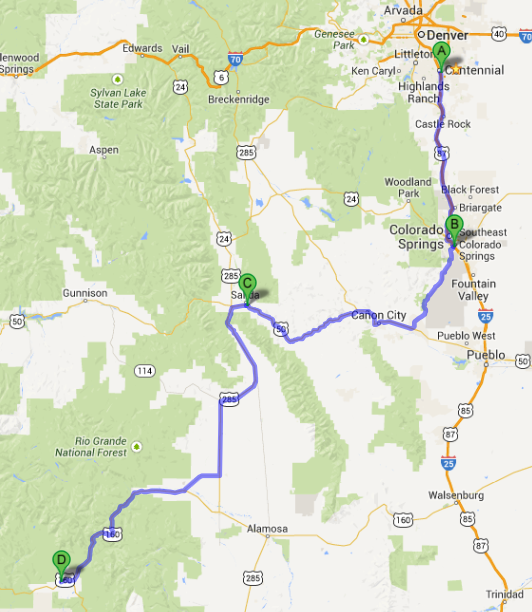 As a small update, I can share that we now have caravans in place for Arizona, and Colorado. Caravan leaders have been identified and final details will be posted for these BMW contingents. The AZ caravan is planned to start in Tuscon and pass near Flagstaff on it's way to Pagosa Springs. This will provide a great opportunity for others to meet up and join in at pre-determined stopping points along the route.  The Denver contingent is increasing in popularity. It may even be necessary to have two Denver caravan's based on the amount of popularity in our poll. Stay tuned for more details, and if registering, mark down your location/caravan preference to stay in the loop!
Click image for sample caravan detail that will be publicized for each caravan[2013 detail if you CLICK]:
However, we are still working on finding a group leader for Utah (hopefully passing through Moab), New Mexico (starting at Santa Fe BMW dealership), and Amarillo, Texas.
Listed below is what a caravan leader's job will be:
-To help propose a route, so an official route/schedule can be constructed and distributed by D4C (Sharing information with a regional BMW group is a plus).
-Meet up at caravan start and help clarify route, schedule, stops, etc
-Ensure drivers/passengers sign provided Liability Waiver
-Ensure caravan stays close to schedule
Here is the 2013 D4C Participant Highlight Video from 2013. Notice some of these shots were taken during the Denver caravan by participants of the meet, and then submitted for the video. This is something that makes the event kick off DURING the drive out to CO, and makes it more exciting to meet new people from your region before making it to the actual event weekend.

If you may be interested in helping with the official caravan, please drop an email to: tom@drive4corners.com  for additional information.
The following two tabs change content below.
Latest posts by Drive 4 Corners (see all)