With another record-breaking turnout, Drive 4 Corners continues to grow year after year. With almost 100 registered participants, more and more from various parts of the region, the future looks bright for the regional BMW gathering.
This "driving destination" features some amazing scenery, awesome driving roads, and most importantly; friendly folks. The main goal of the event is to celebrate our favorite marque by driving our BMW's to a weekend destination. The informal nature of the meet allows for anybody interested in this sort of thing to come and participate as much (or little) as they desire. Fly fishing, hiking, an afternoon retreat at the spa; these were only a few of the various activities that people enjoyed besides just the automotive gathering. Participants came from all over the US and focused on meeting others at this weekend getaway highlighted by the cars we are each passionate about. Quite a few people were more than content viewing the cars and chatting anxiously with fellow enthusiasts. For a brief overview and summary of this years event, take a look at the Drive 4 Corners 2014 Video Review:
After slowly gathering and sorting through images, we present the 2014 Event in Review, which aims to highlight the weekend with photos and detail for those who missed parts of the weekend.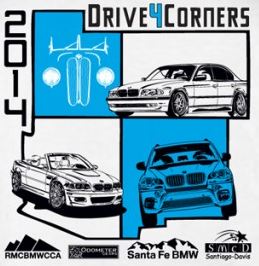 2014 was the 4th annual D4C gathering, and was slightly different than years past. A new hotel in downtown Pagosa Springs became the host. The downtown location of the Quality Inn hotel made it very easy to stroll into to town and explore what the mountain town had to offer. The same weekend of August 1-3, 2014, the town of Pagosa Springs had a few other activities going on, so the town was alive. Having the location downtown meant that all participants had designated parking and did not have to mess about with the meager availability along main street.
Officially, the event kicked off on July 31, 2014 with the departure of the Official Texas caravan. Their journey of 820 miles meant that they would arrive late Thursday night. Two E39's made the trek, with Aubrey Wright, the caravan leader marching into the OdometerGears 1000 Mile Club on this years journey to Colorado. He made a stop to see relatives that live in the area, and joined us at different points throughout the weekend. Here's a photo of his car from the 2014 User Uploaded Gallery:
Others, such as Andres Alcaraz, started their journey at this time as well. He and his wife came all the way from California for the second year in a row. This time, however, PAPRMKR was driving #2, his 2007 328i coupe from Oxnard, California, a total of 890 miles.
Next, the Arizona Caravan departed to make their 8+ hour journey to Pagosa Springs. The early departure meant they were able to beat traffic and also meet up with Flagstaff BMW owners in both Globe and Holbrook, AZ.
This is the group in Farmington, NM (about 100 miles from the destination), with a total of 8 BMW's.
Take a look at this great photo at Manuel Vigil posted from his drive through Chama, NM. This was the same route that the New Mexico Caravan took to get to Colorado.
The caravan through New Mexico included a scenic route past Chimney Rock and other visual treasures.
Earlier that morning, the Colorado caravan begun from Denver. Being that Denver is one of the largest cities in the region, it was indeed a major draw, with almost 30 BMW's meeting up in Park Meadows Mall.
This year, the caravan was unique in that the BMW Car Club of America, Rocky Mountain Chapter was advertising part the drive as their fall event. This meant that there were a few vehicles that met up but didn't travel all the way to Pagosa Springs. One of those cars was a mint BMW 2002 Turbo. 
The caravan headed south to Colorado Springs, where a plethora of BMW's were already waiting. This included two unique BMW Z1's, with one usually being quite a rare sight!
By this time, the group had grown, and the caravan was to be split into two separate caravans when departing the meeting location!
From the initial group, it seemed a bit more like a car show than a gathering with how many people showed up! Sooner than later, the caravan would depart to stay on schedule and meet up with the others.  Driving with a pack of 15-20 other BMW's made for an exciting drive through the Colorado countryside.
The next stop was a gas stop in Salida, CO where we once again ogled each others cars (and scarfed down a brown bag lunch). It was appropriate at this time to comment on our favorite sounding exhausts and discuss our stories from the previous 100 miles.
Next stop, was Pagosa Springs, where there were already some BMW enthusiasts at the host hotel. We made good time (some made GREAT time, but I won't mention who, or go into more detail…) through the San Luis Valley.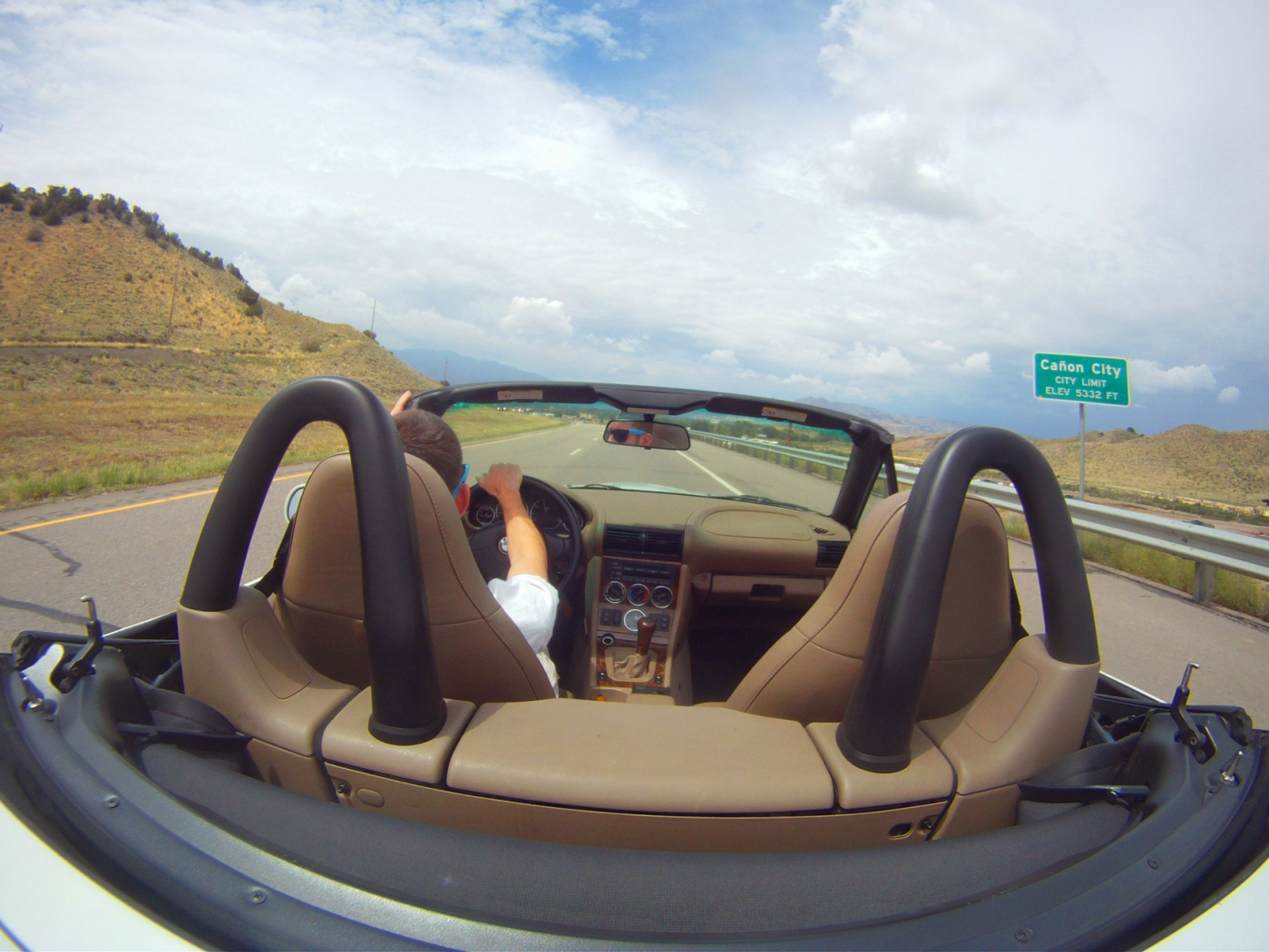 This meant that Wolf Creek Pass was the only route standing in our way– and that was  a good thing because the two lane road with twisting mountain roads only reinvigorated everybody who may have been asleep on the straight sections of road. Again, the pack of BMW's was a great sight to see along the backdrop of the Rocky Mountains.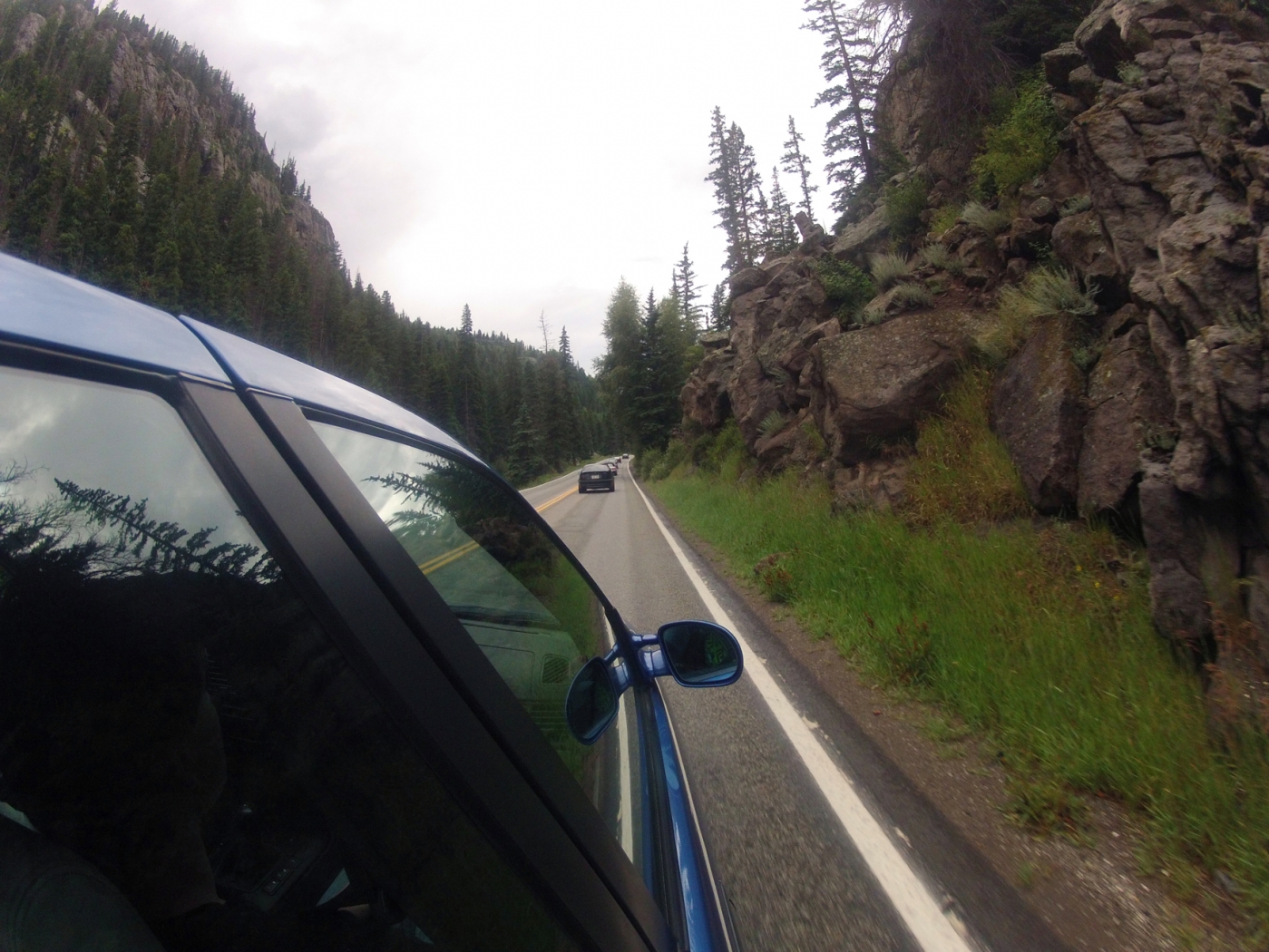 There was some moisture here and there but the vast majority of it had hit prior to the caravan's arrival. This left an array of clouds squeezing and edging their way through the jutting rock formations, all at eye level. This resulted in stunning imagery that must be seen to be described.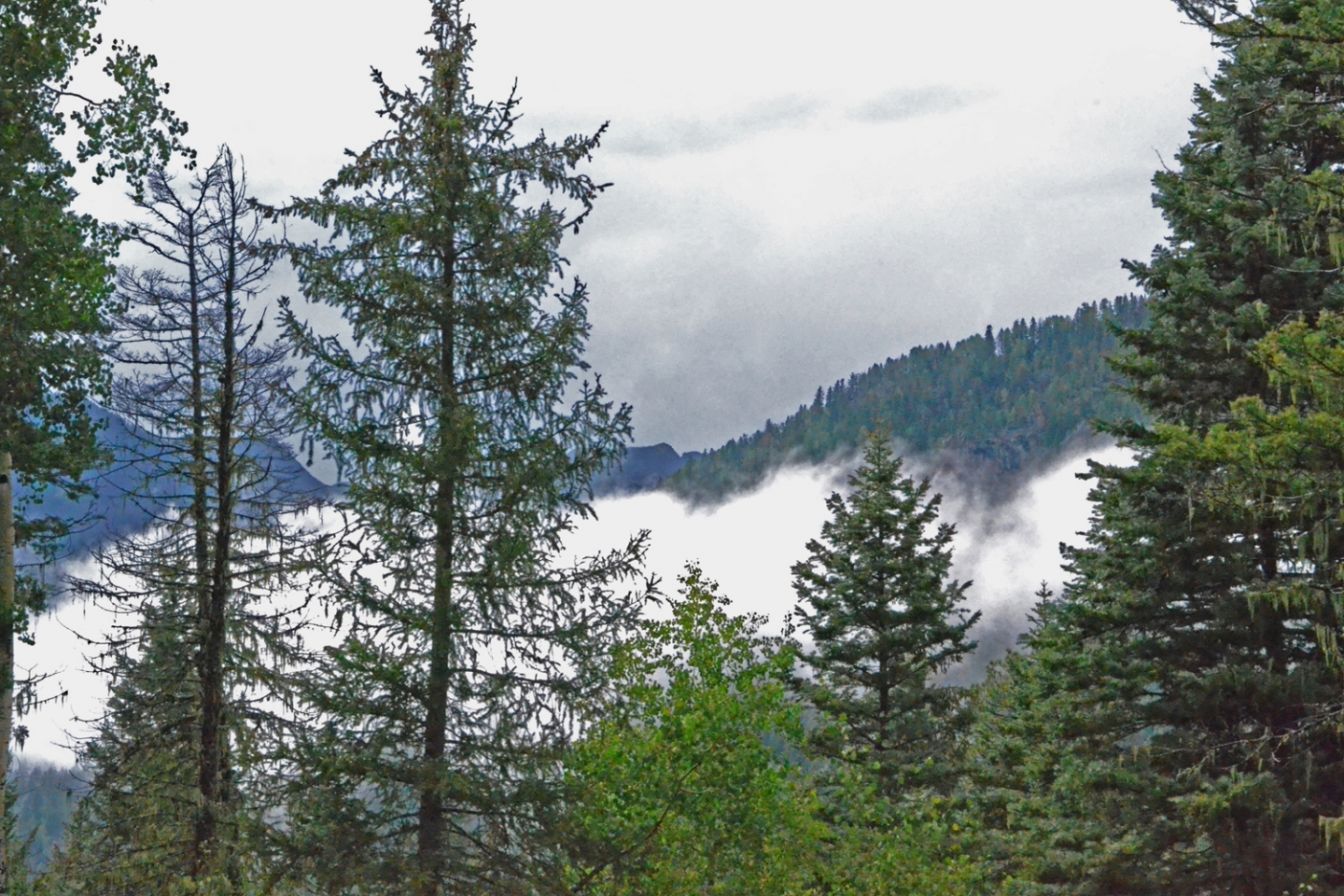 The relaxing drive into town was the perfect topping to an exciting and interesting Colorado caravan. The looks that are given to you when you roll through small towns with a line of BMW's is priceless. The locals of Pagosa Springs were less than impressed with the 'traffic jam' that was created on main street.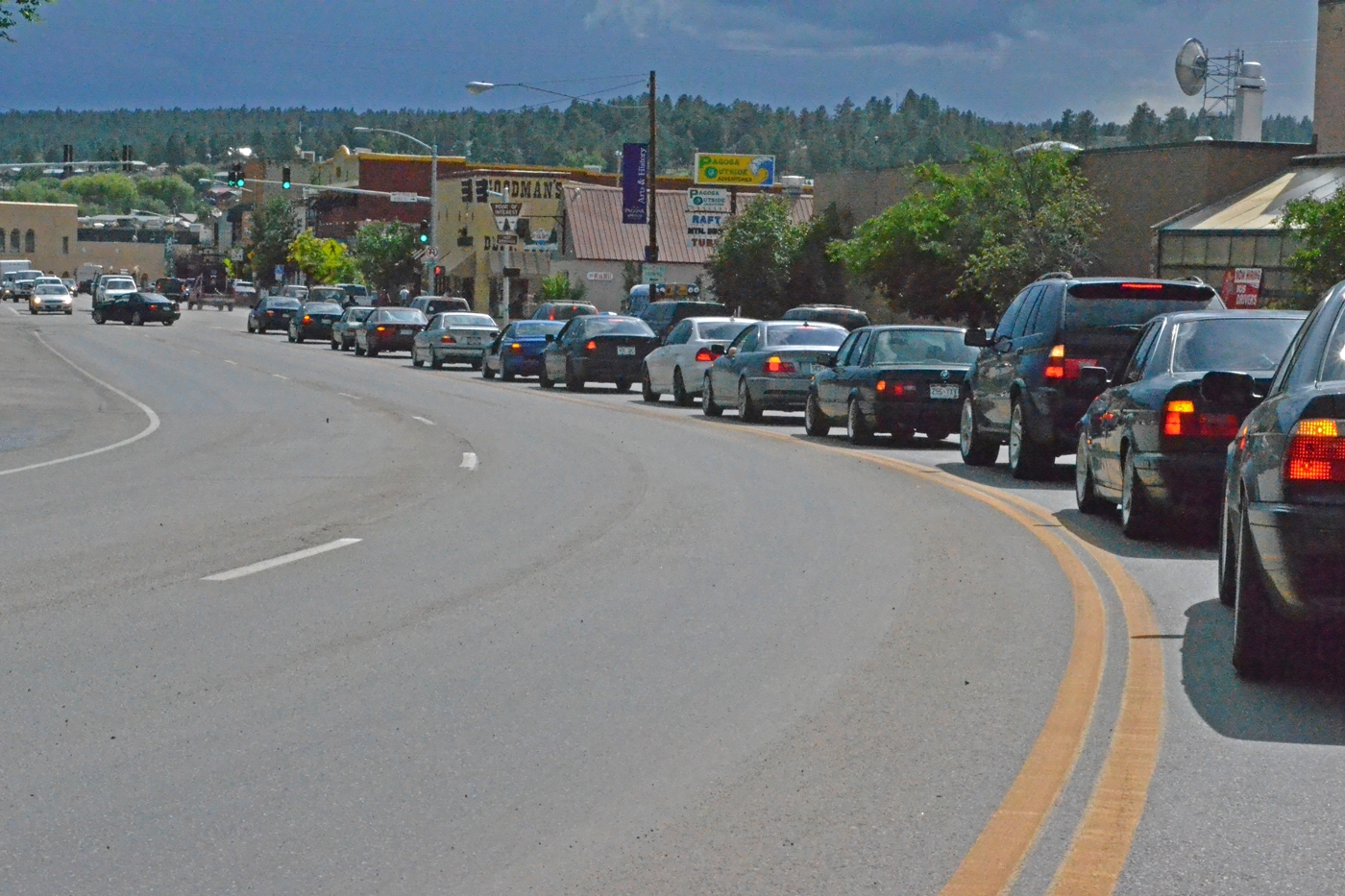 The lovely sight awaiting us at the stop light above:
The even lovelier sight awaiting us at the host hotel Quality Inn:
The DIY carwash station was a big hit with car after car in line until well after dusk. Some might even call this a necessary ritual of a road trip in a BMW, but we will let the photos do the talking.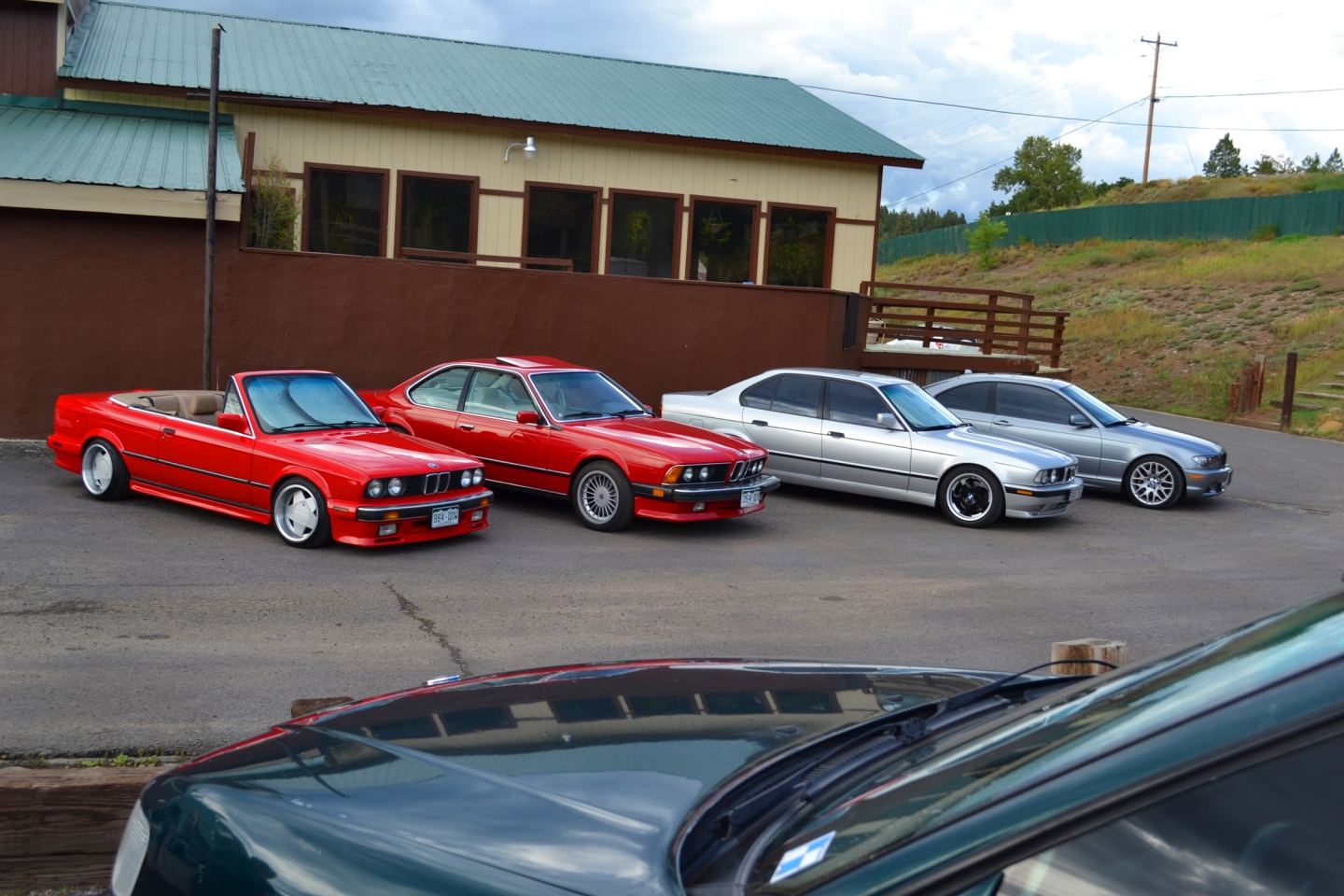 Check in and a low-key hotdog dinner was available for all those who made it for the 4:30pm check in. In all, just under 90 participants checked in for the event. People relaxed after the drive and had drinks before a smorgasbord of activities Saturday morning.
Saturday morning started later with a 10:00am meeting, however some people were out and about washing their cars and getting everything ready for our photo opportunity and drive.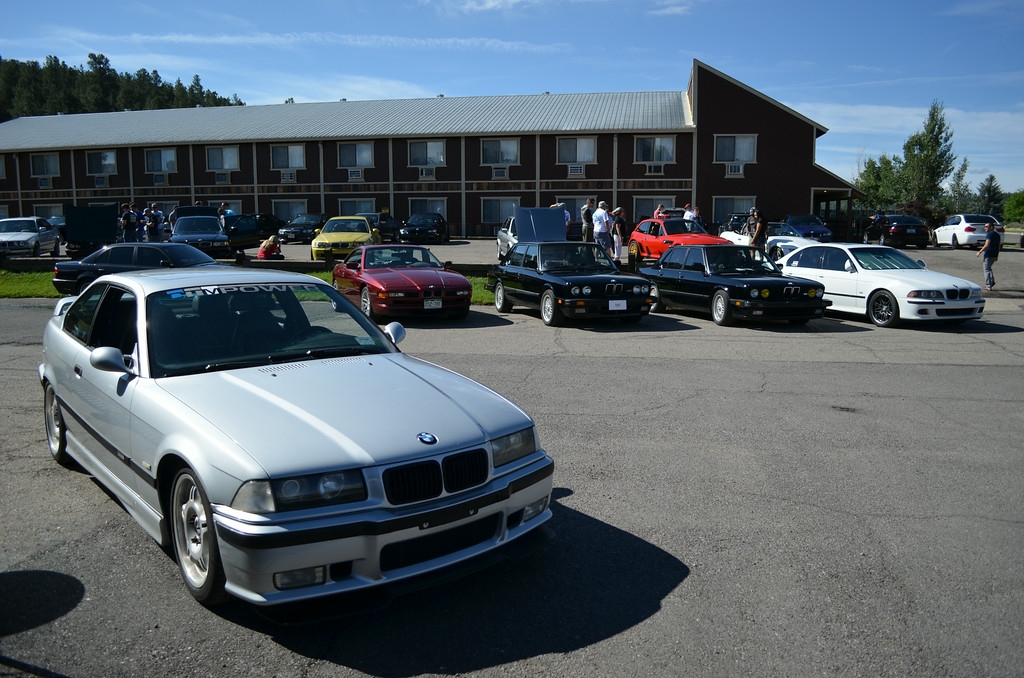 It was tough not to notice the variety of BMW's and the different locations the event had drawn.
The entire group culminated into one central location, and everybody in attendance had to DRIVE their cars to the meet.
More participants had yet to wash their cars, so this was done just prior to the drive.
At this point, there was a brief drivers meeting before the three driving groups (arranged by year) departed for the top of Wolf Creek Pass and the famous Continental Divide. Being in downtown, the group didn't have to navigate through quite as many stop lights as previous years.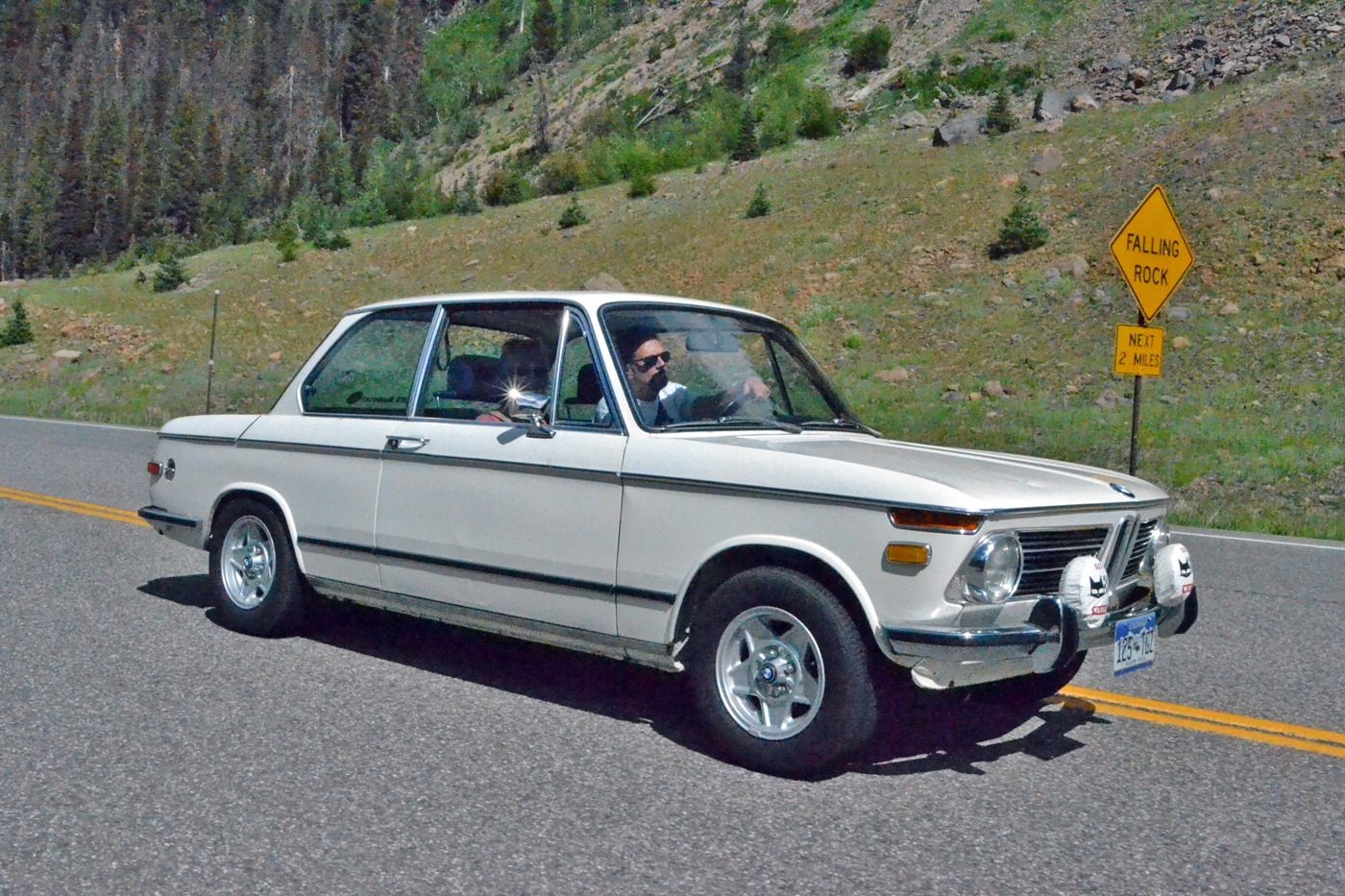 A great image of driving group 2:
Arriving at the top of the pass: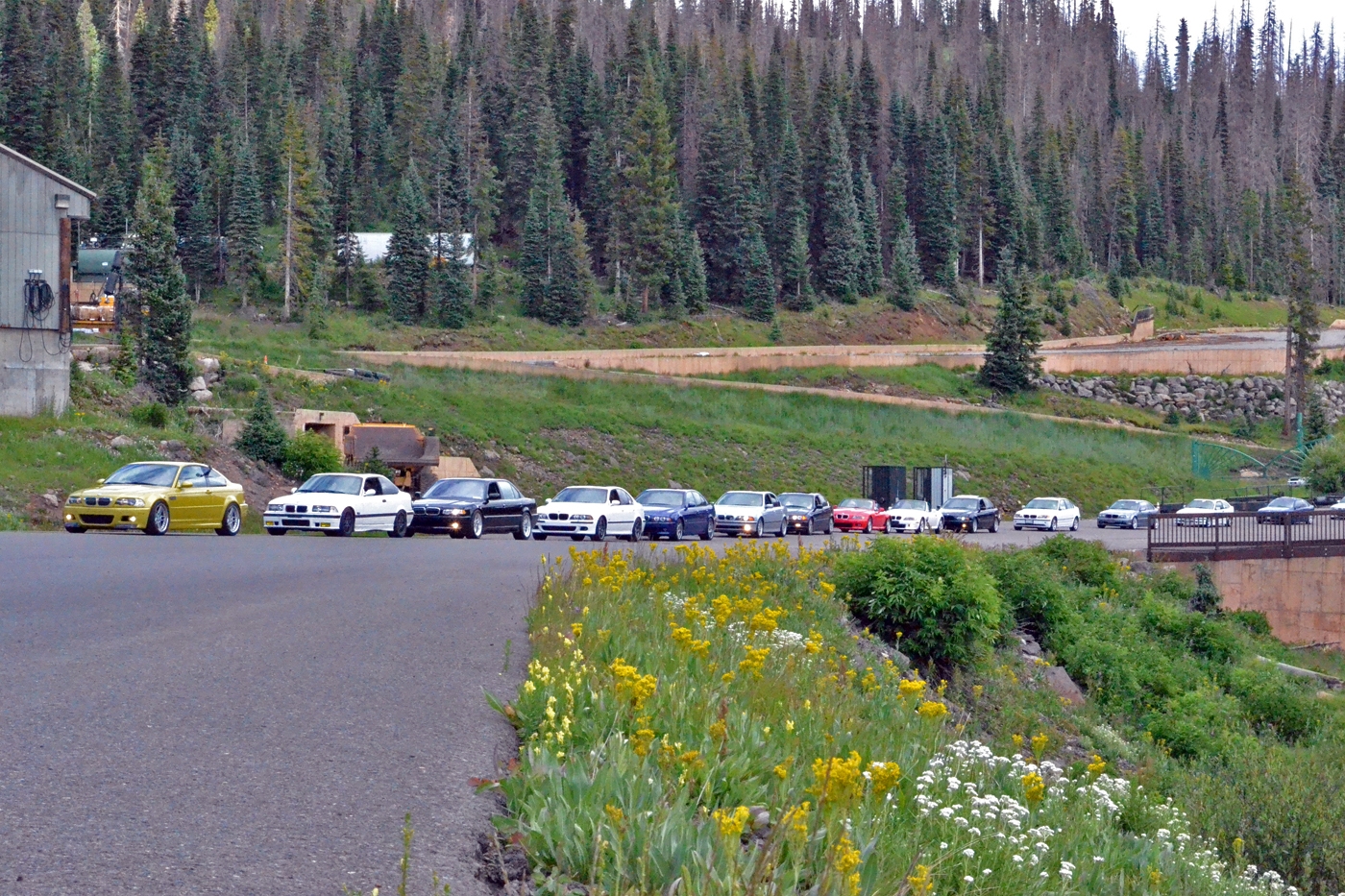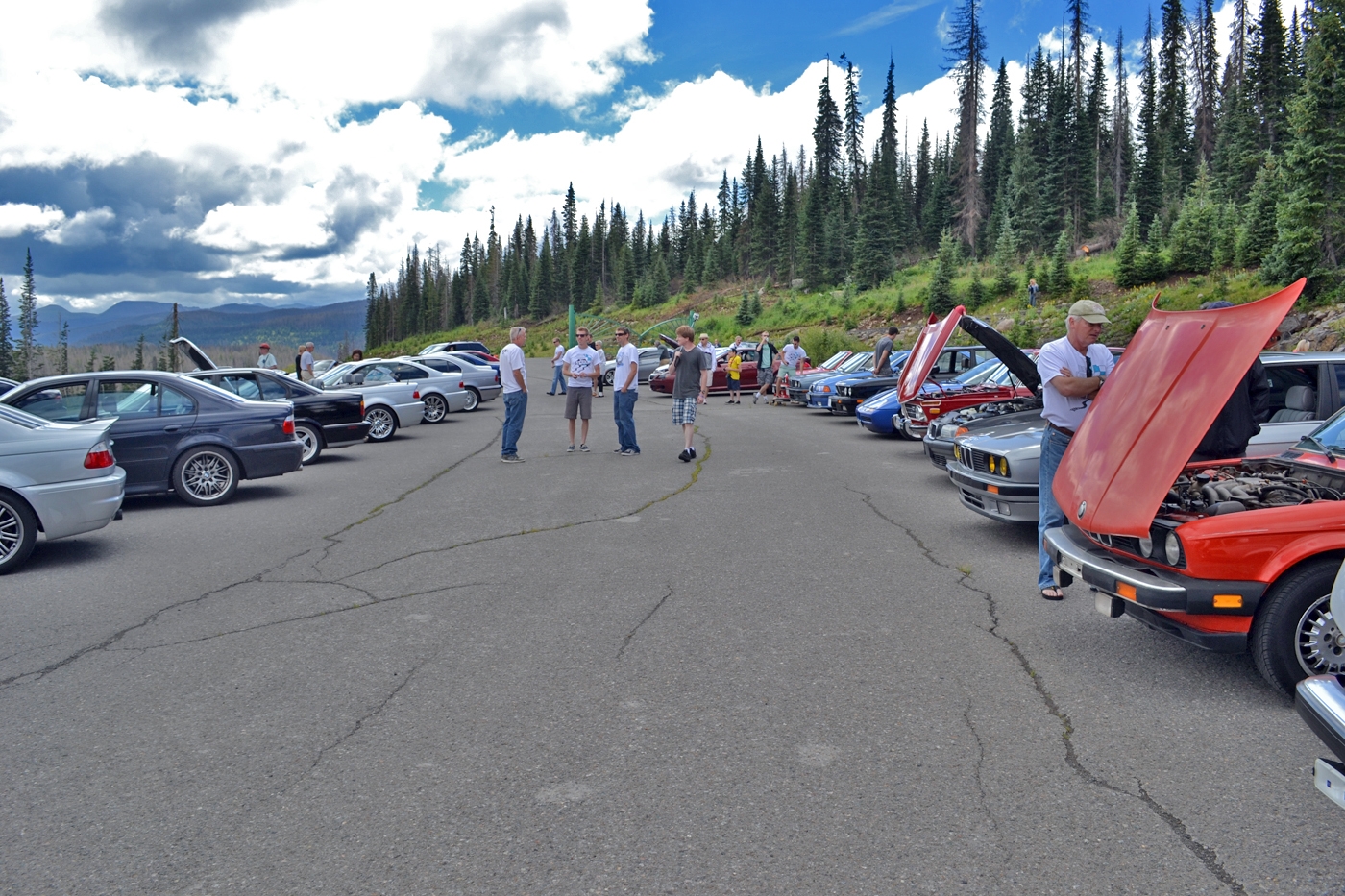 The parking coordinator did a great job getting everybody lined up properly for a great photo opportunity.
With almost 90 cars atop the Continental Divide, it sure was a sight to behold. The large number of BMW's all cleaned up and arranged by year was something to see. The weather held out perfectly and with the cloud cover, and it was a good relief from the usual 10,000ft sun.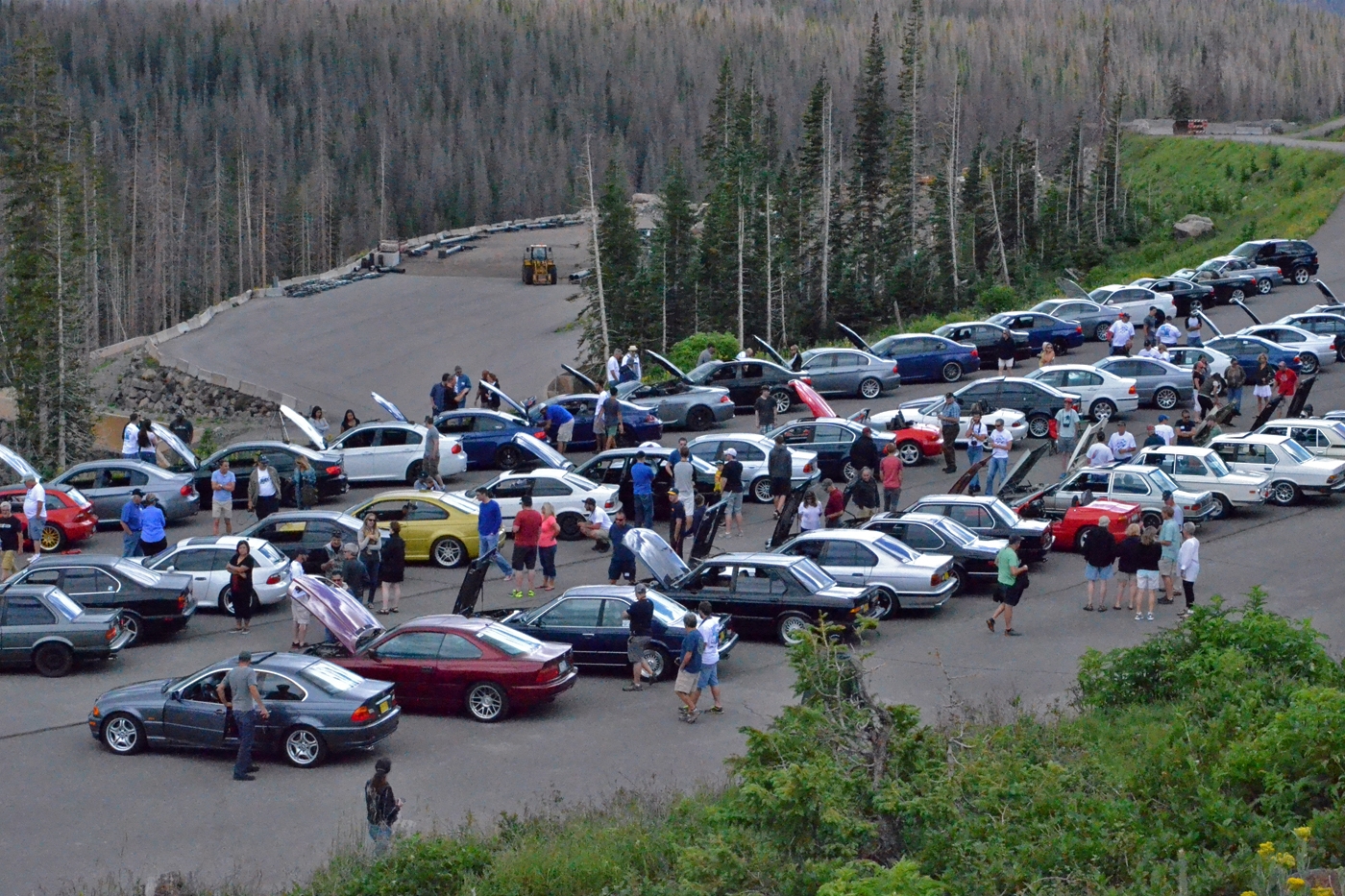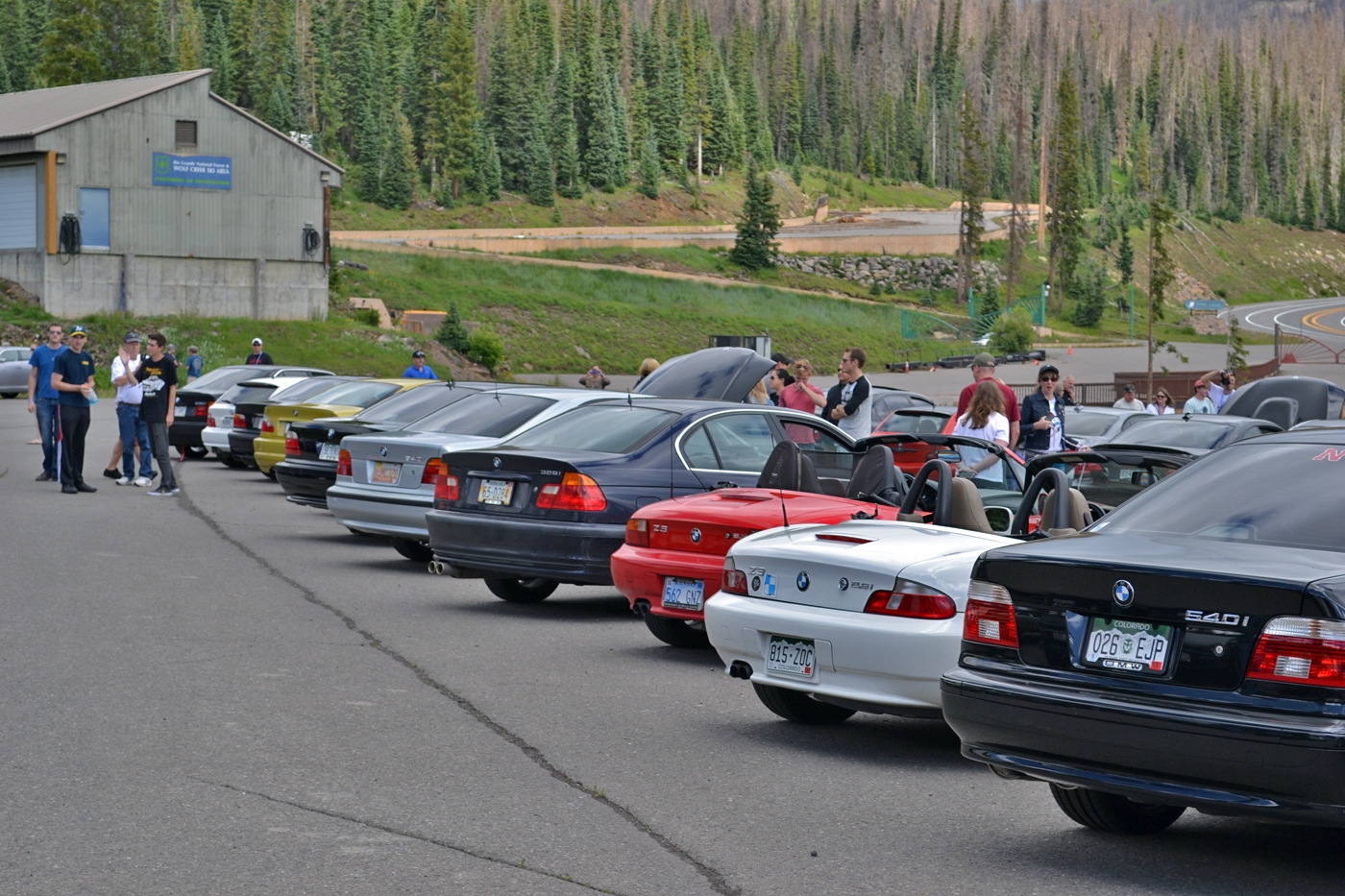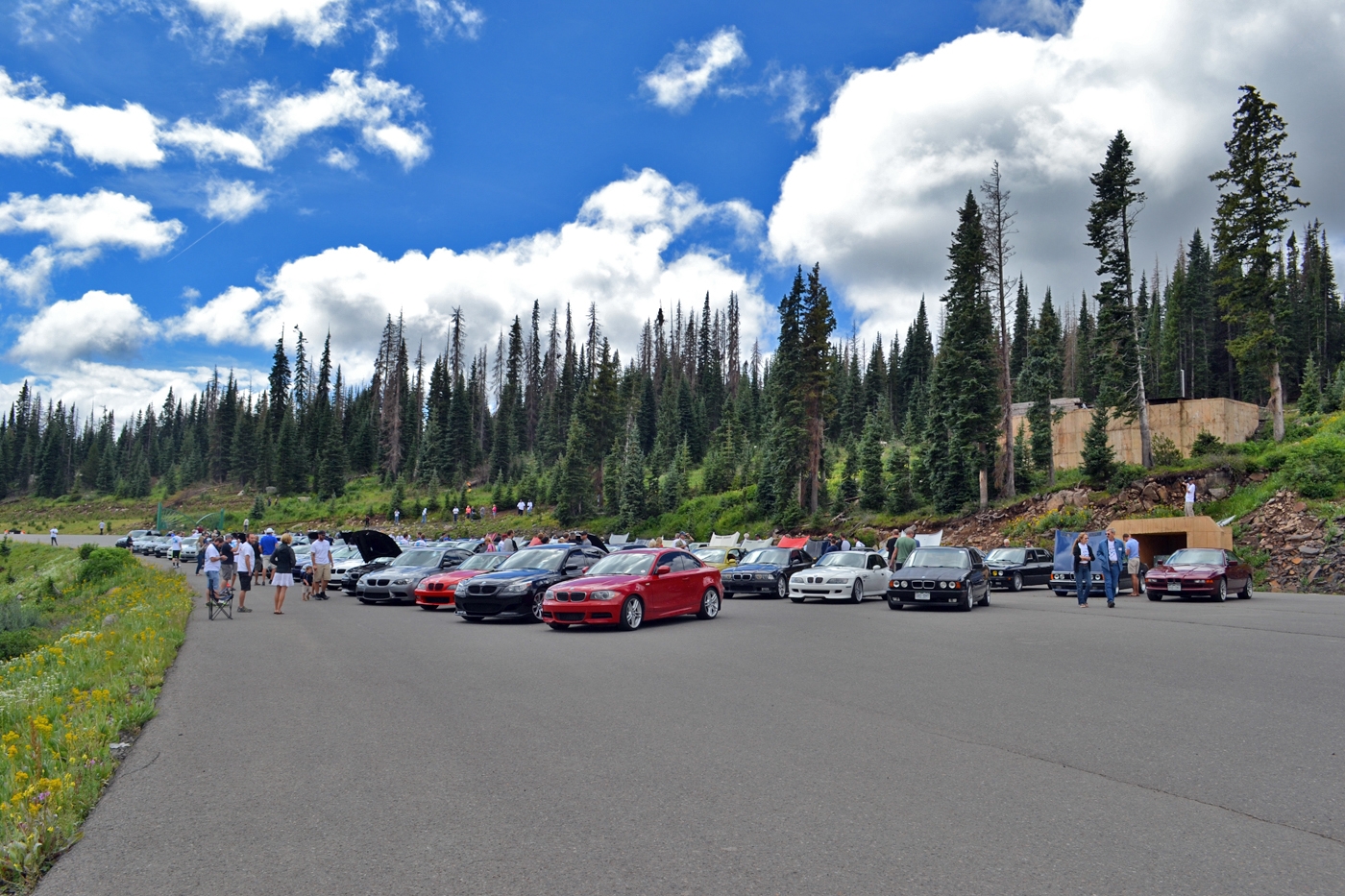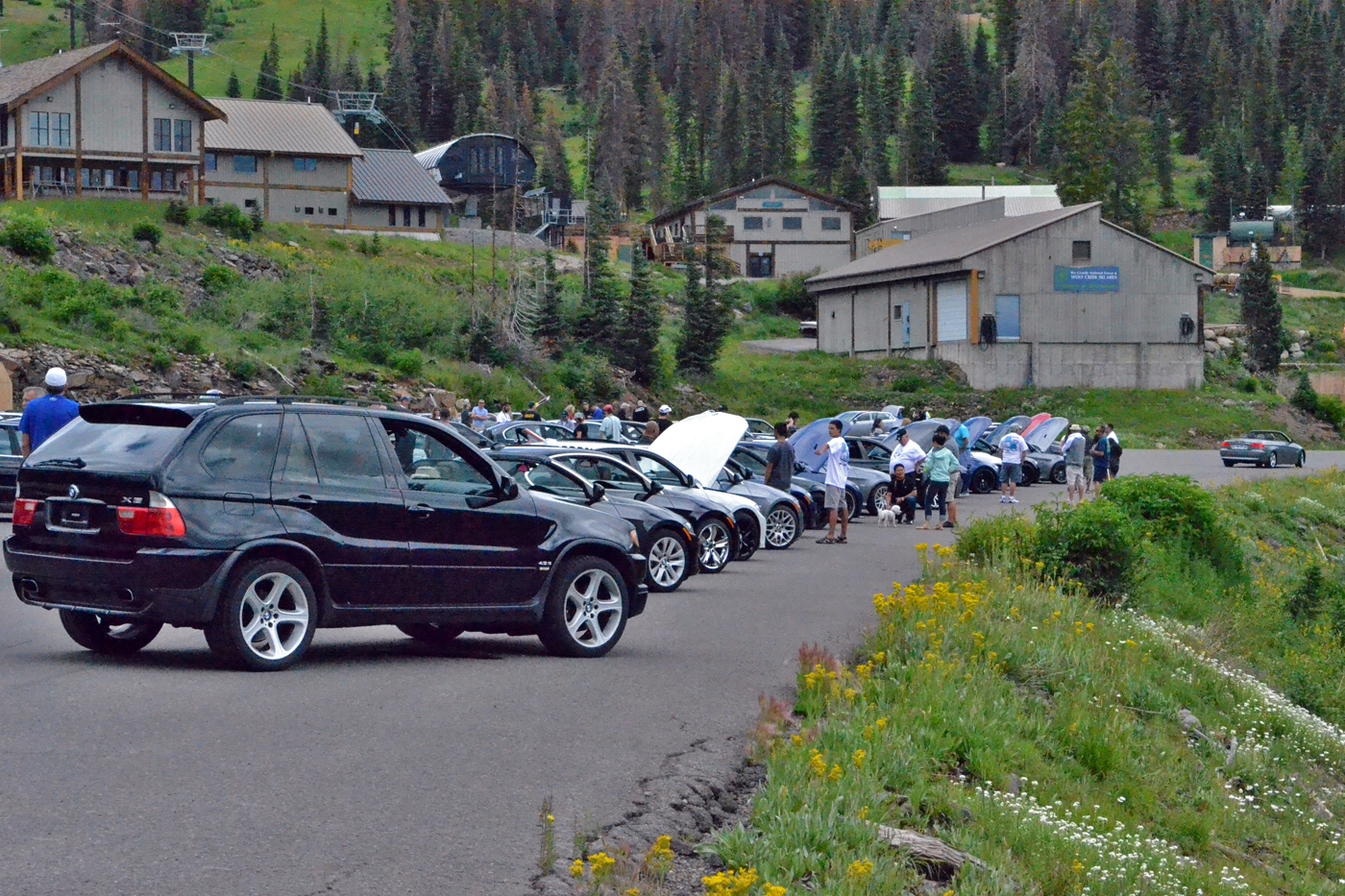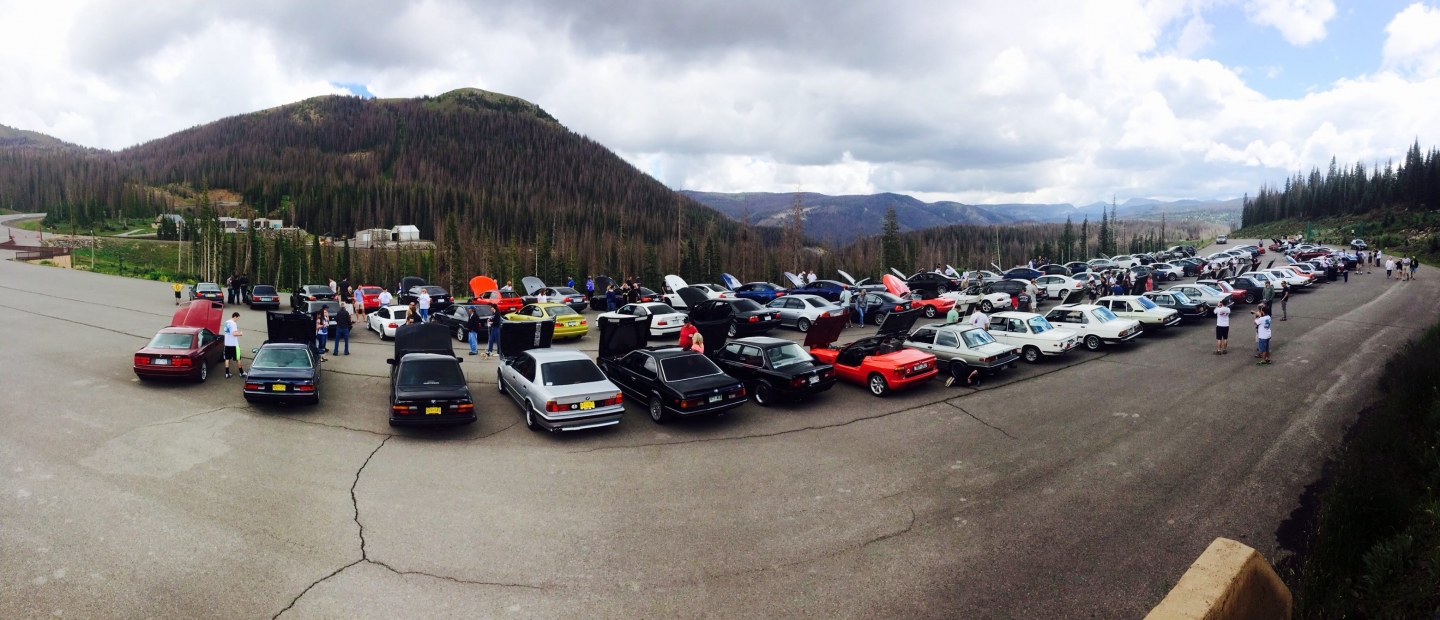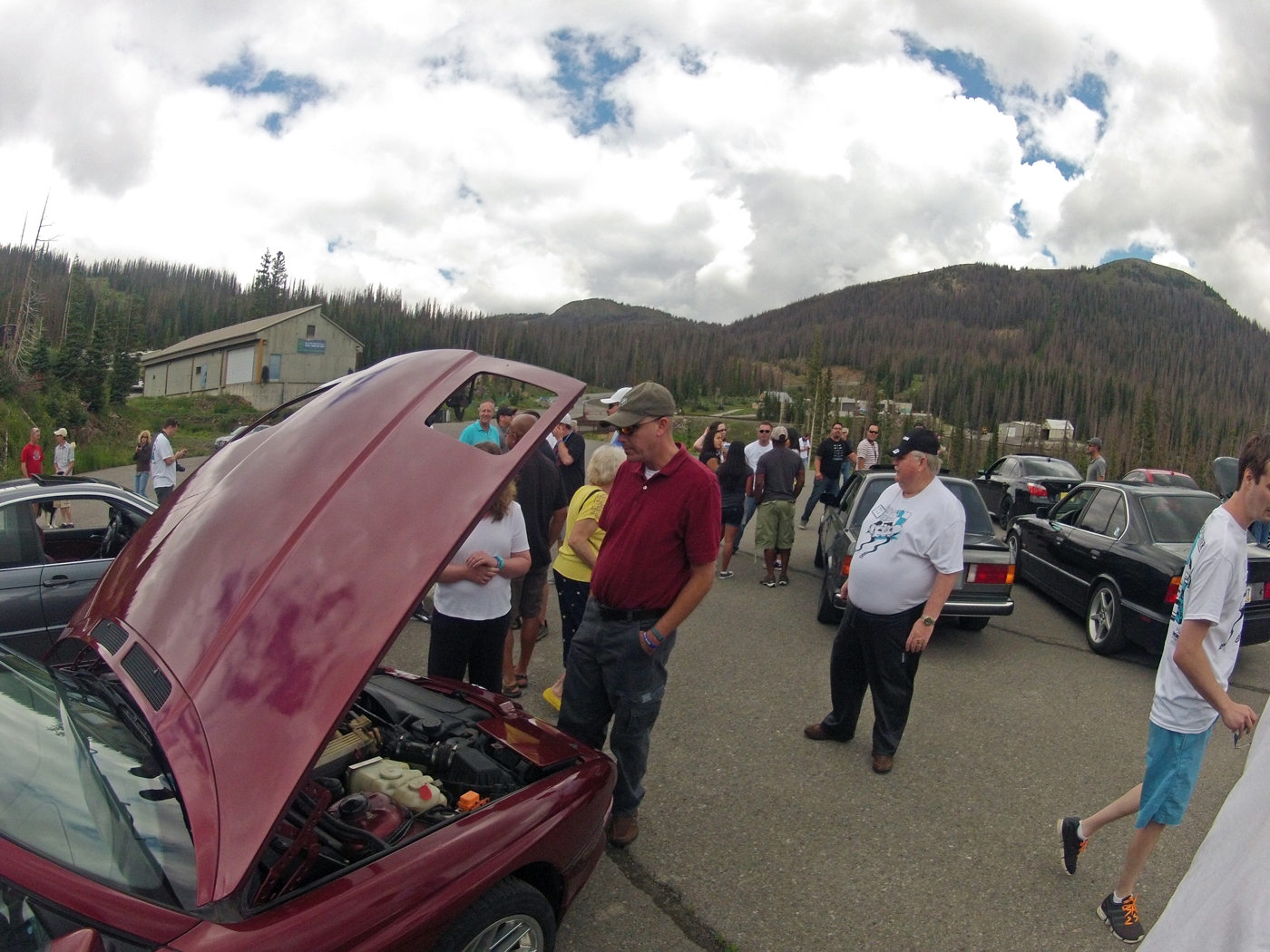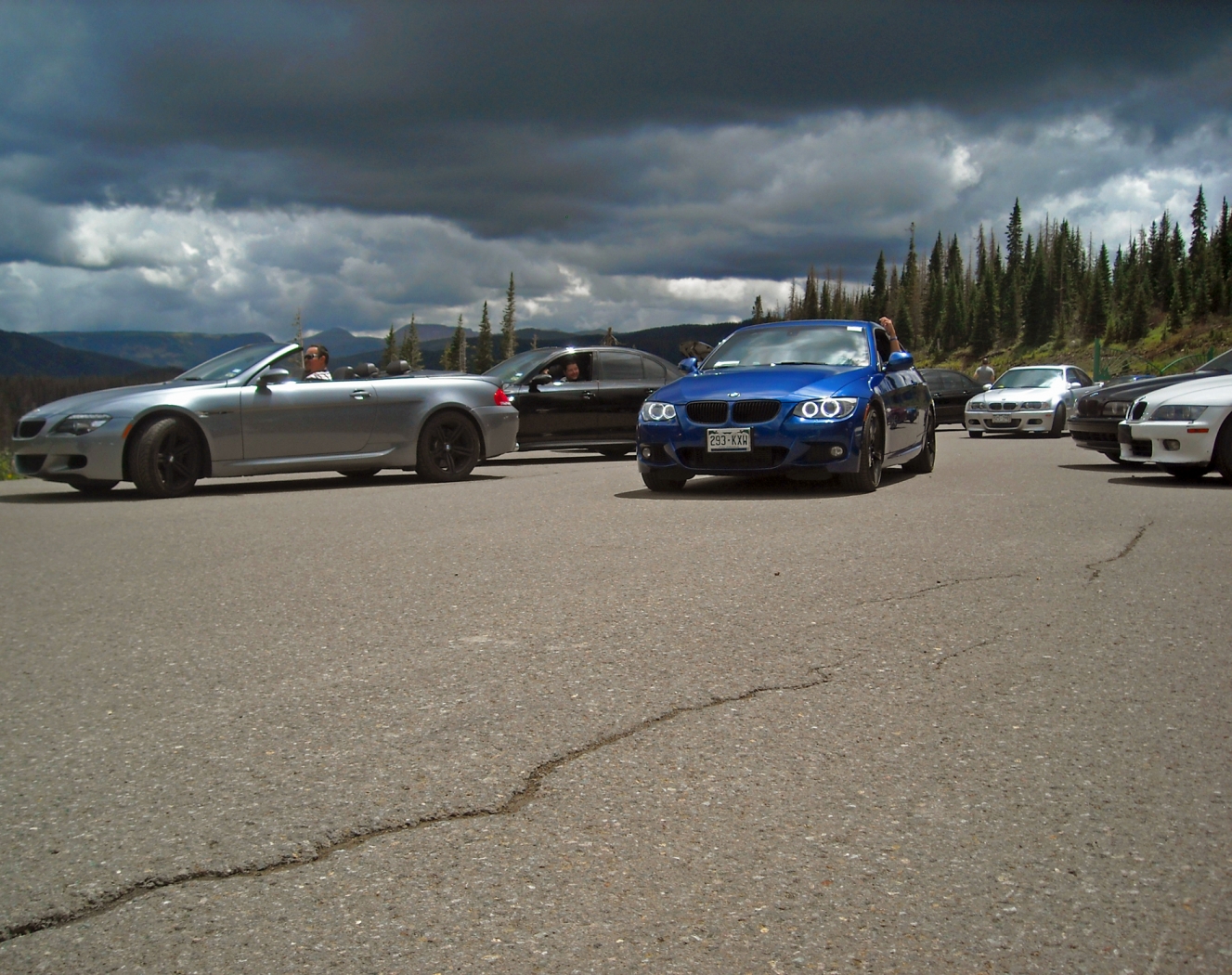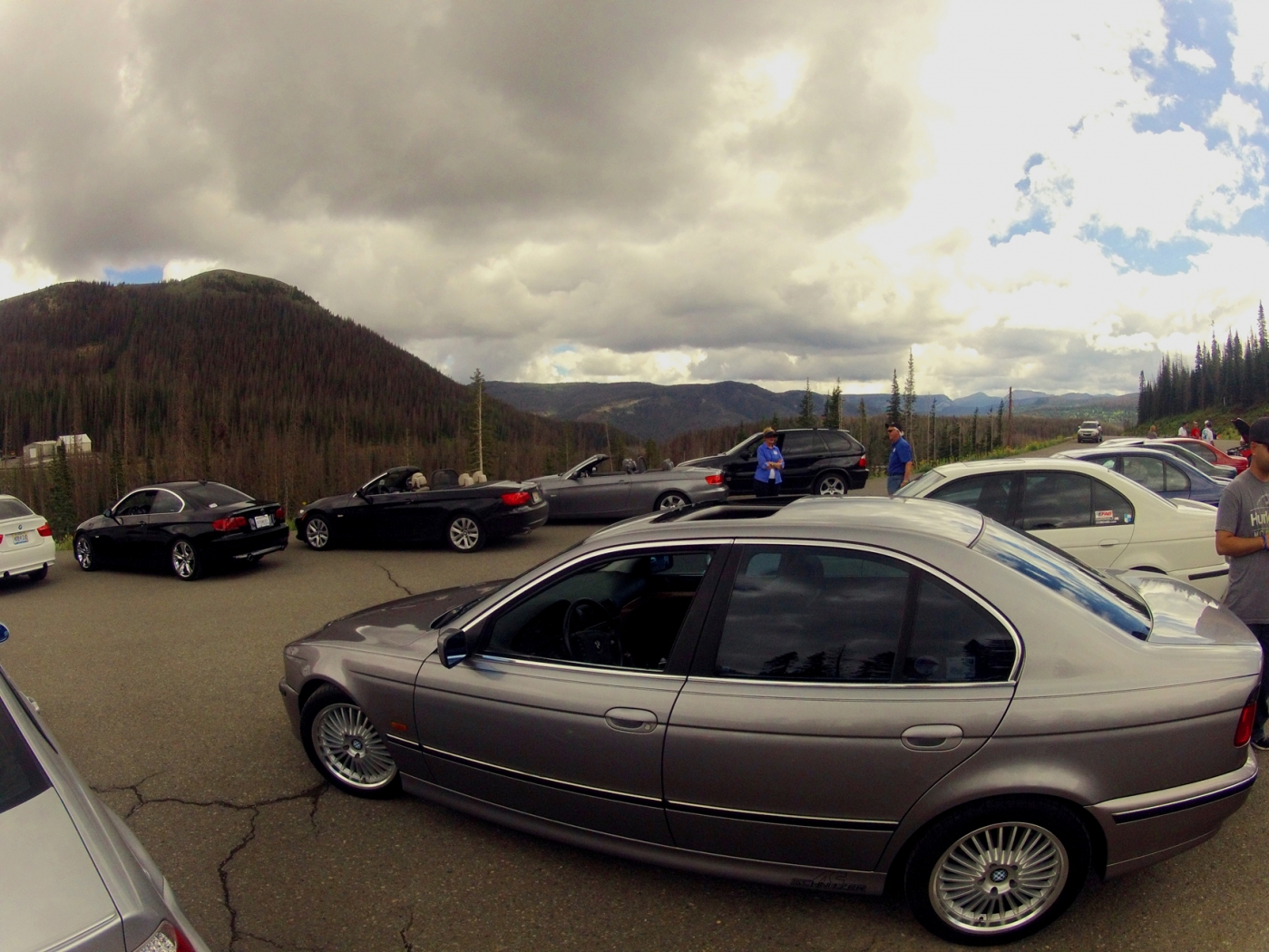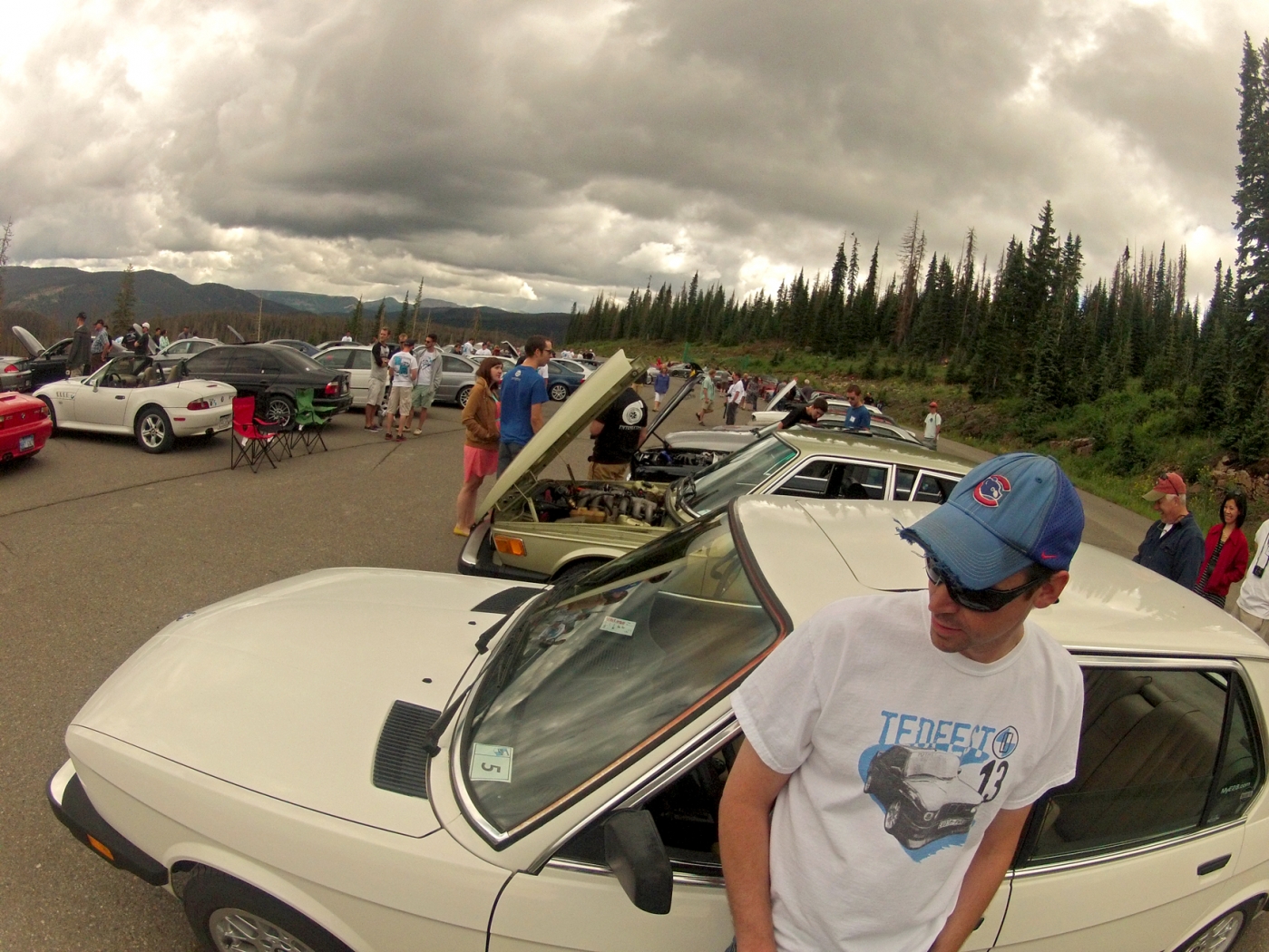 For those who were interested in more driving, an Extended Drive was organized to the towns of Creede and Lake City. Those interested, over 30 cars, lined up in order to head out. This was the mass exodus shown the Video Review. https://www.youtube.com/watch?v=9tPUBJ63sW8
Everybody was able to eat, explore, or relax at their own pace, which meant everybody went in different directions before a BMW BBQ later that evening. There were plenty of photo opportunities for those along for the ride.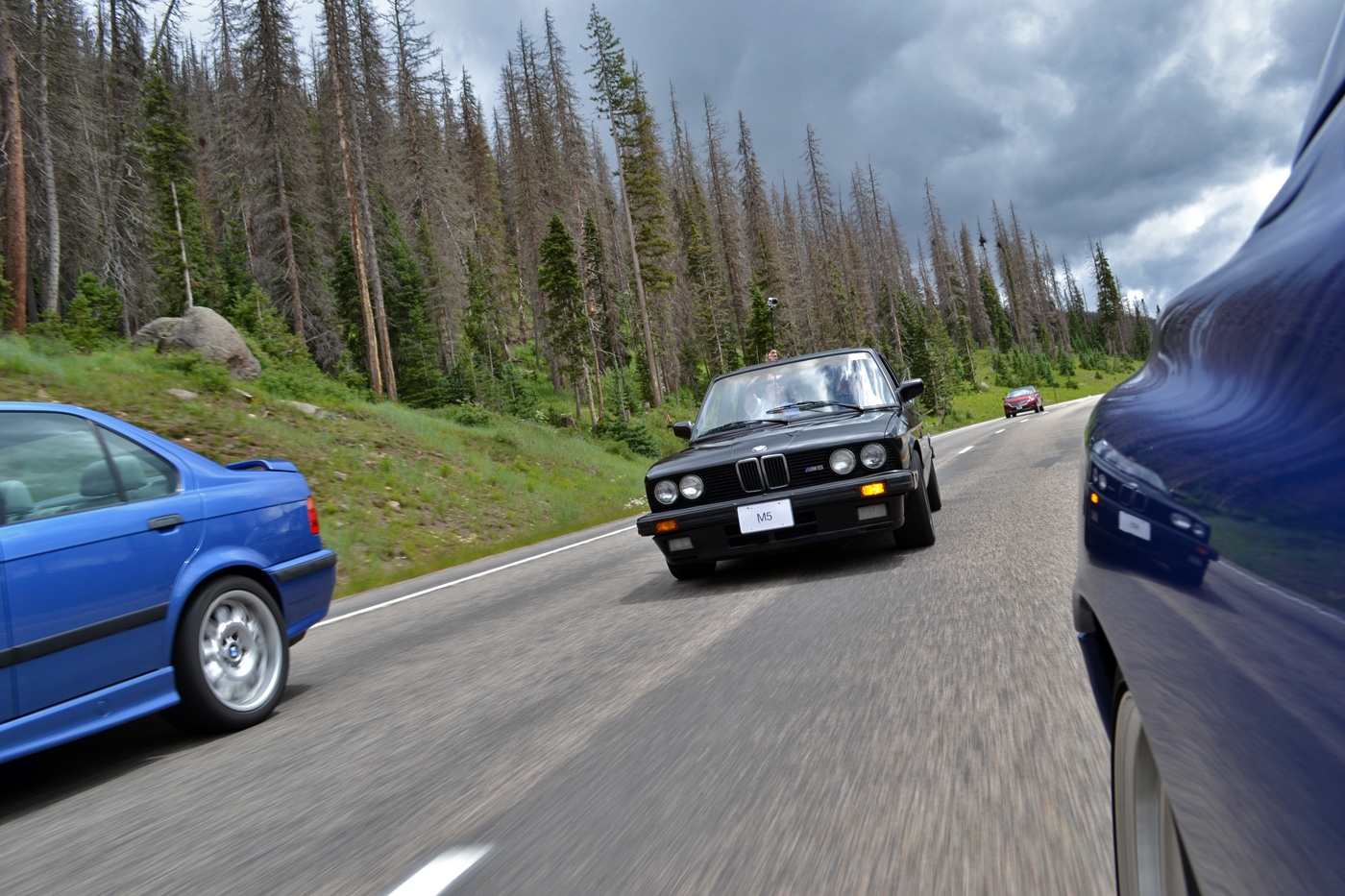 Here is an E12 right at the golden line of the Divide itself, as uploaded by one of our participants.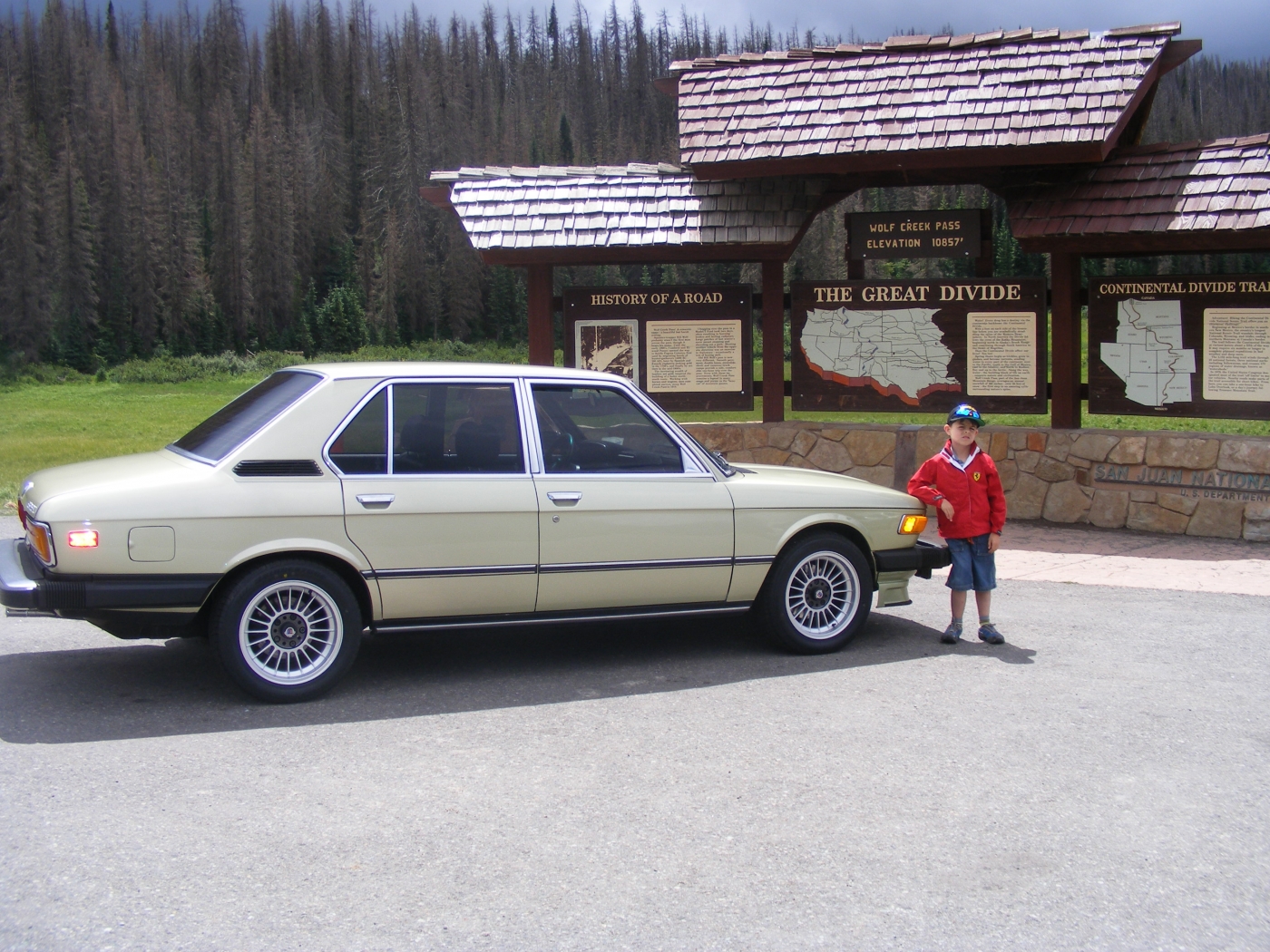 This is the view from "Dead Man's Curve."
Back at the Quality Inn, plenty of shenanigans begun, including the Gymkhana and the driving simulator during the BBQ.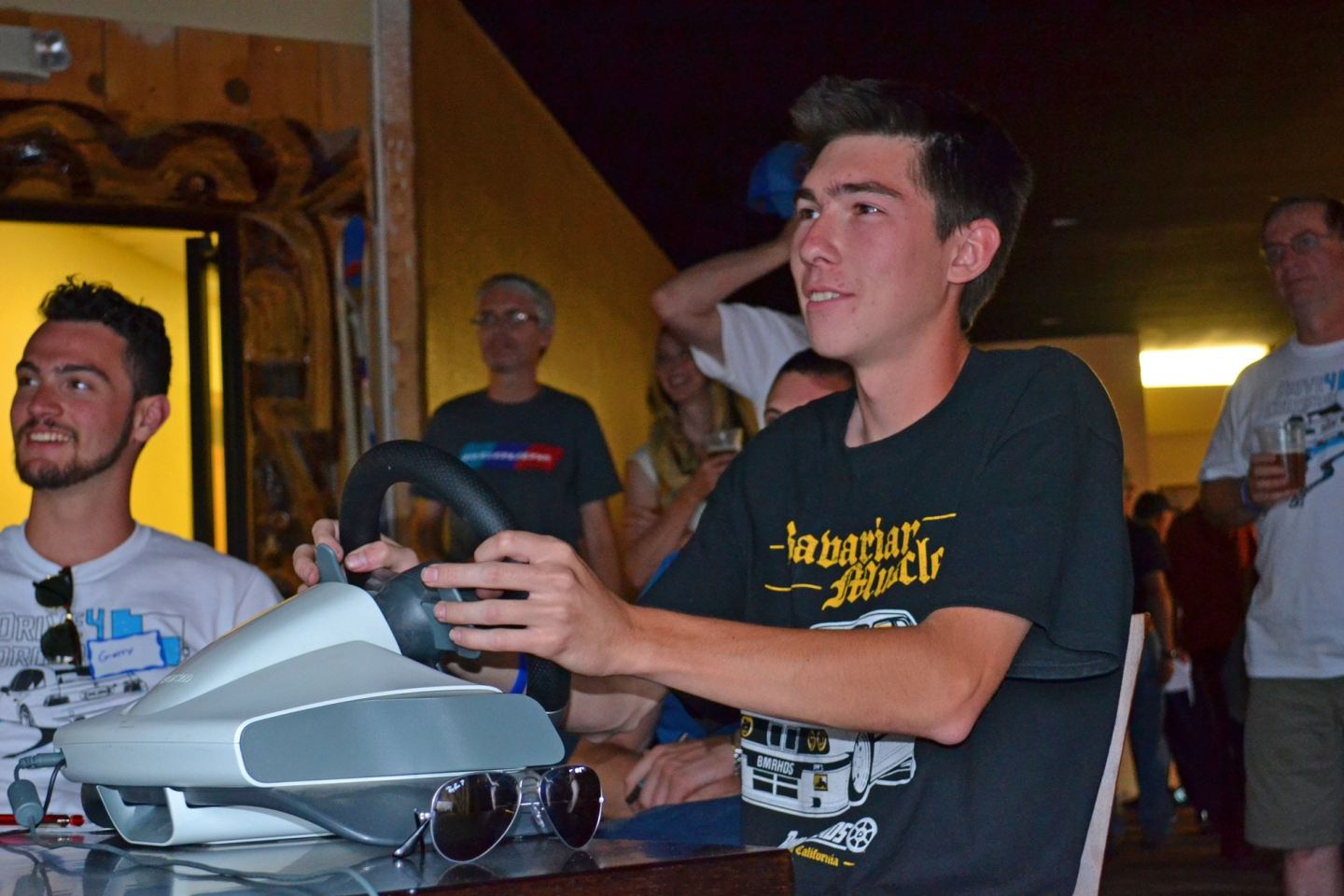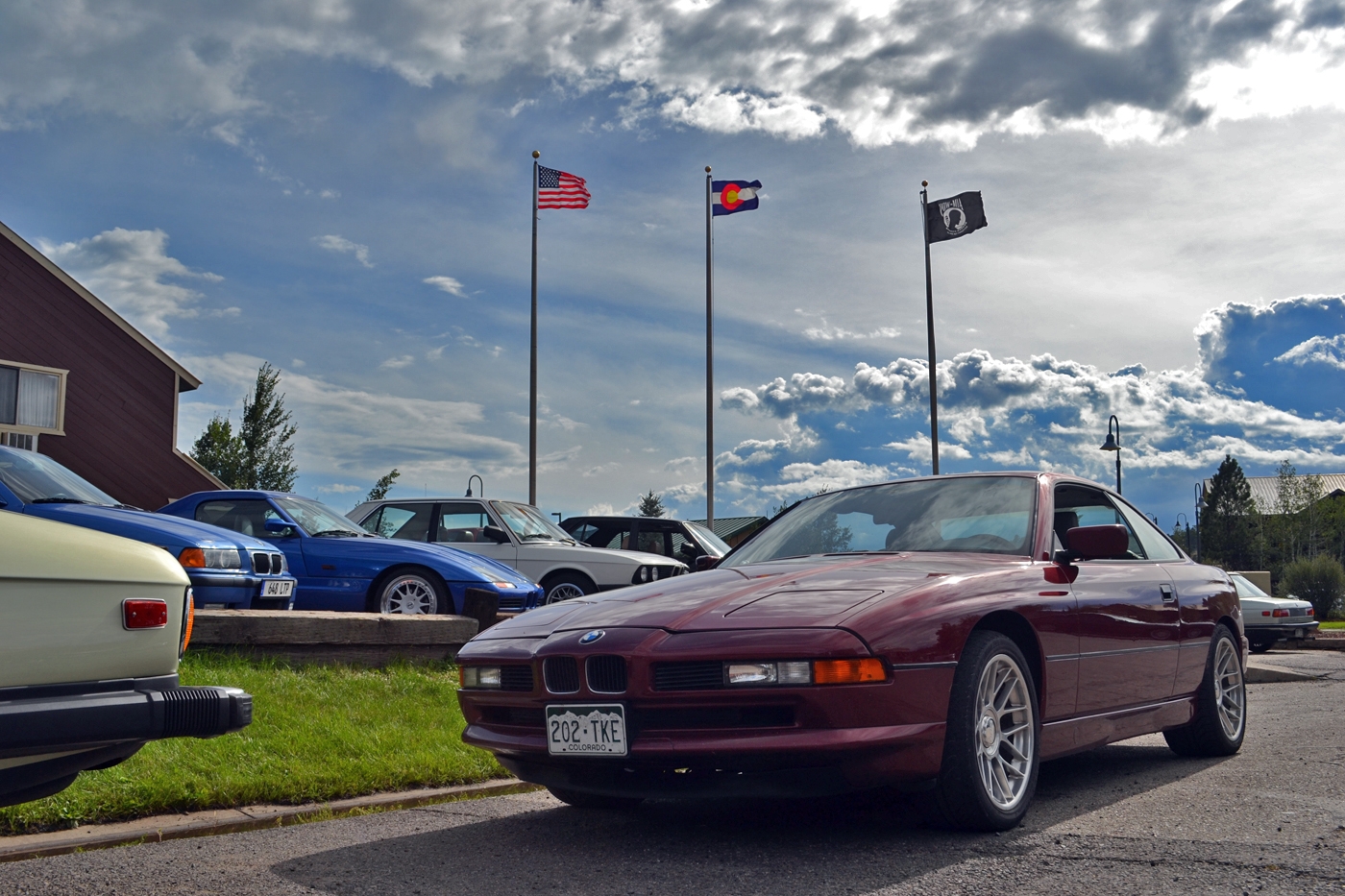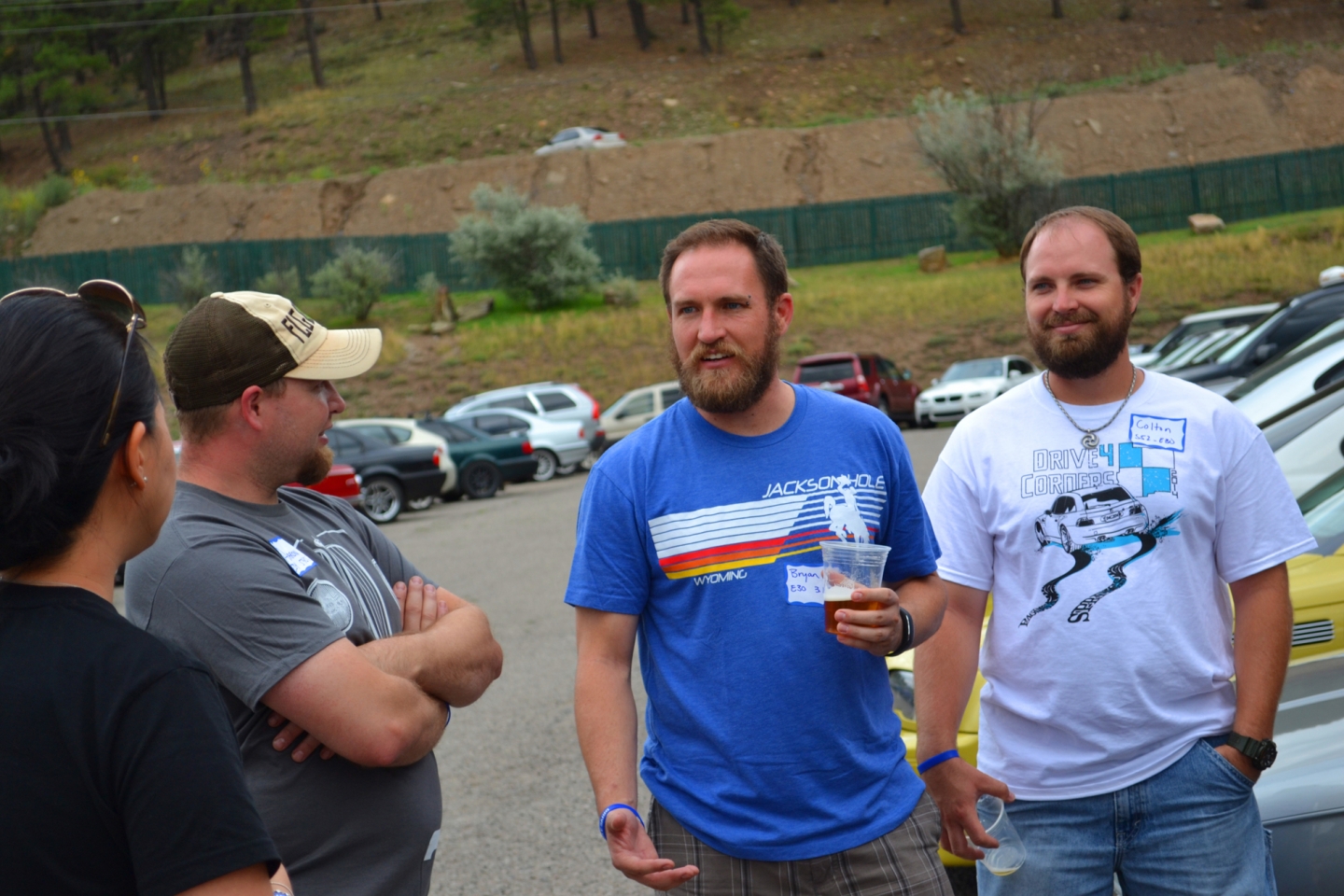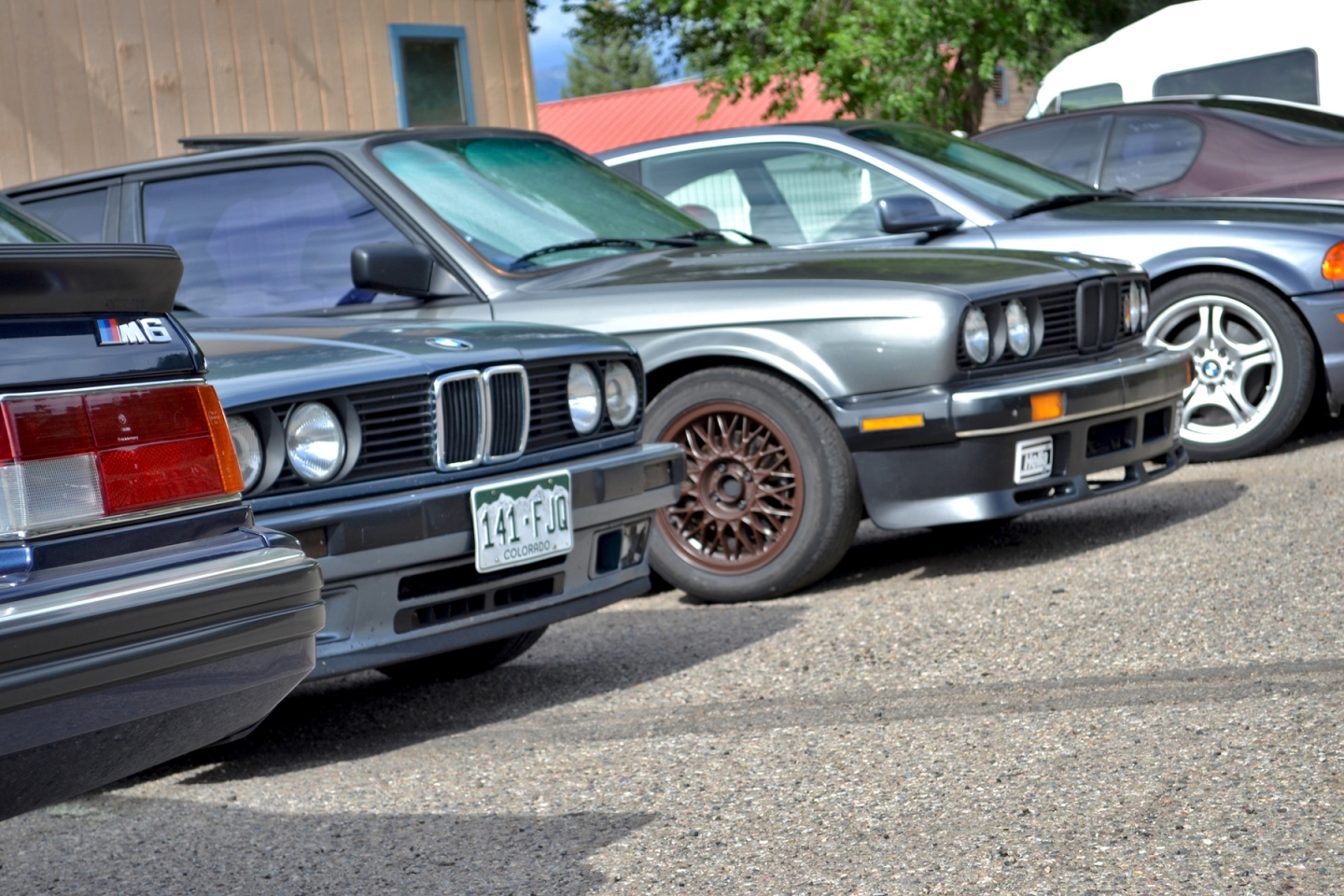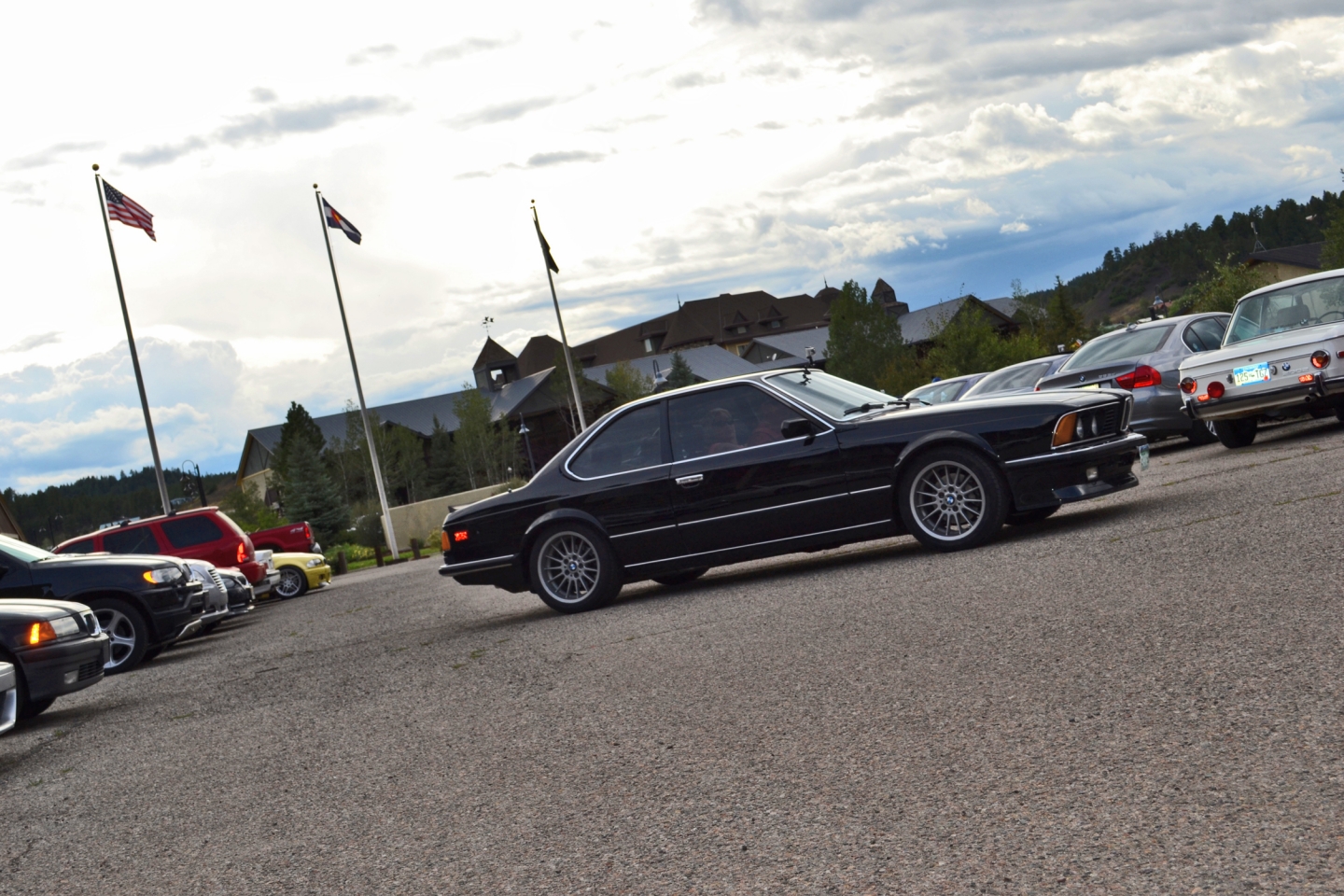 Our gracious cooks.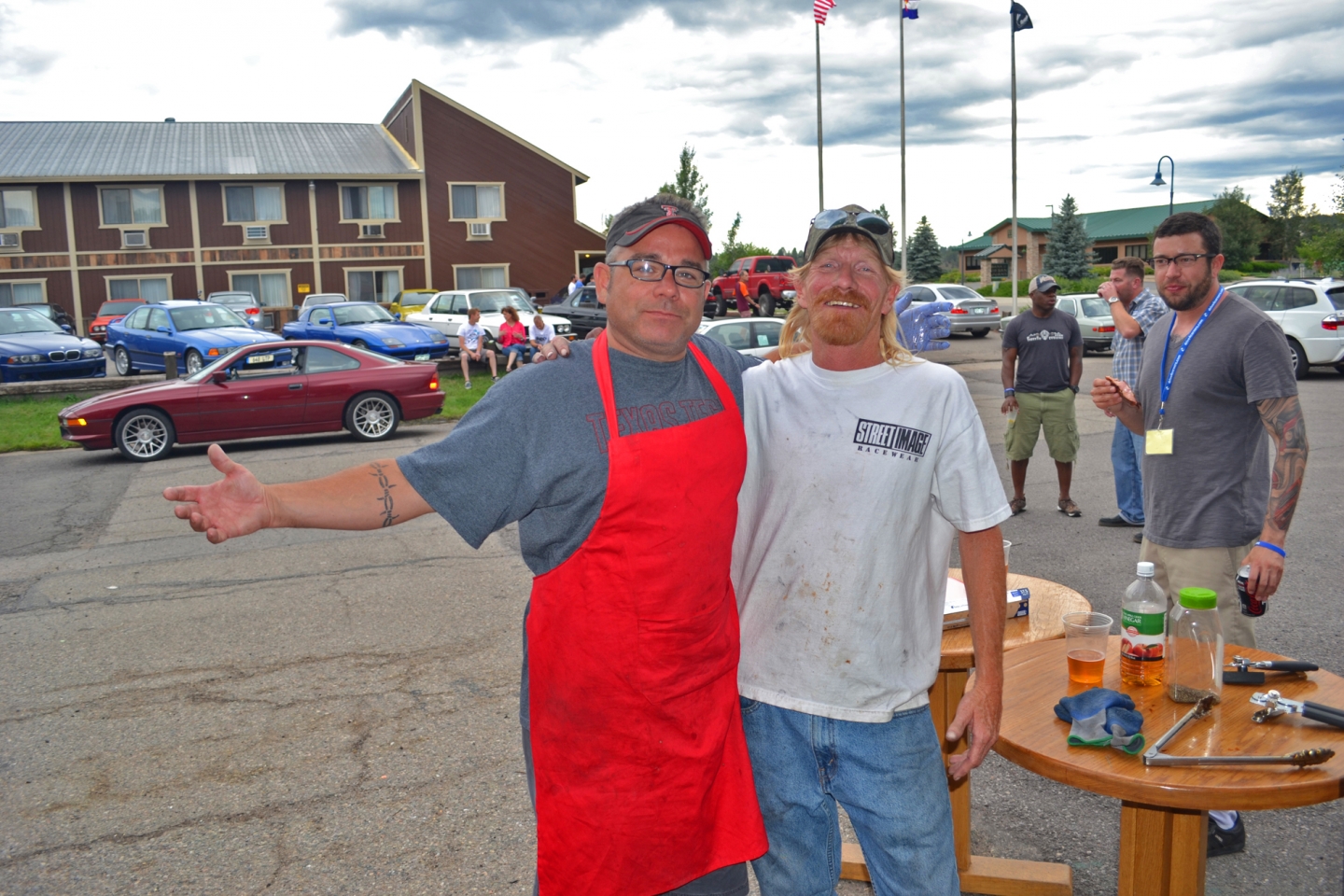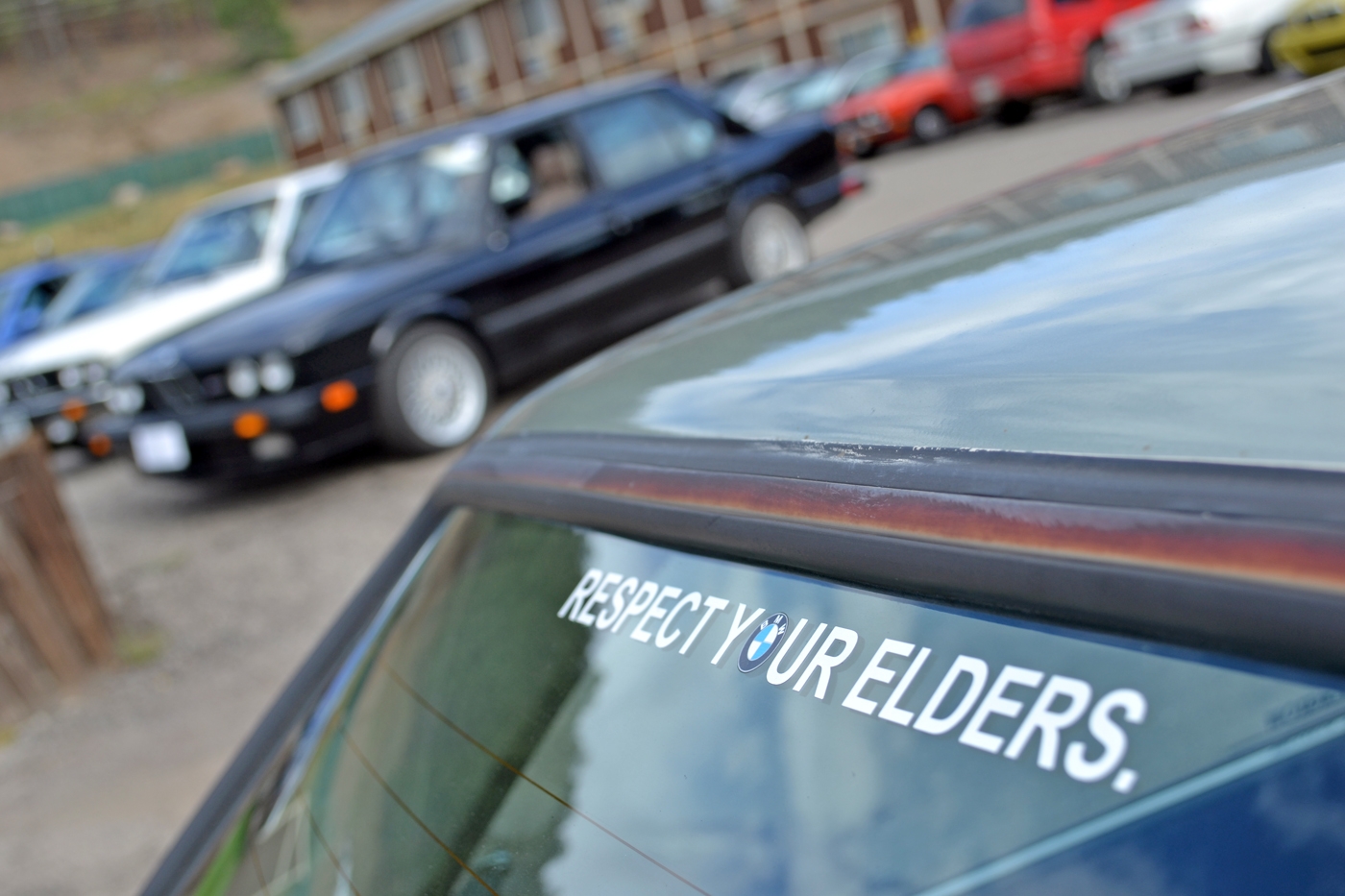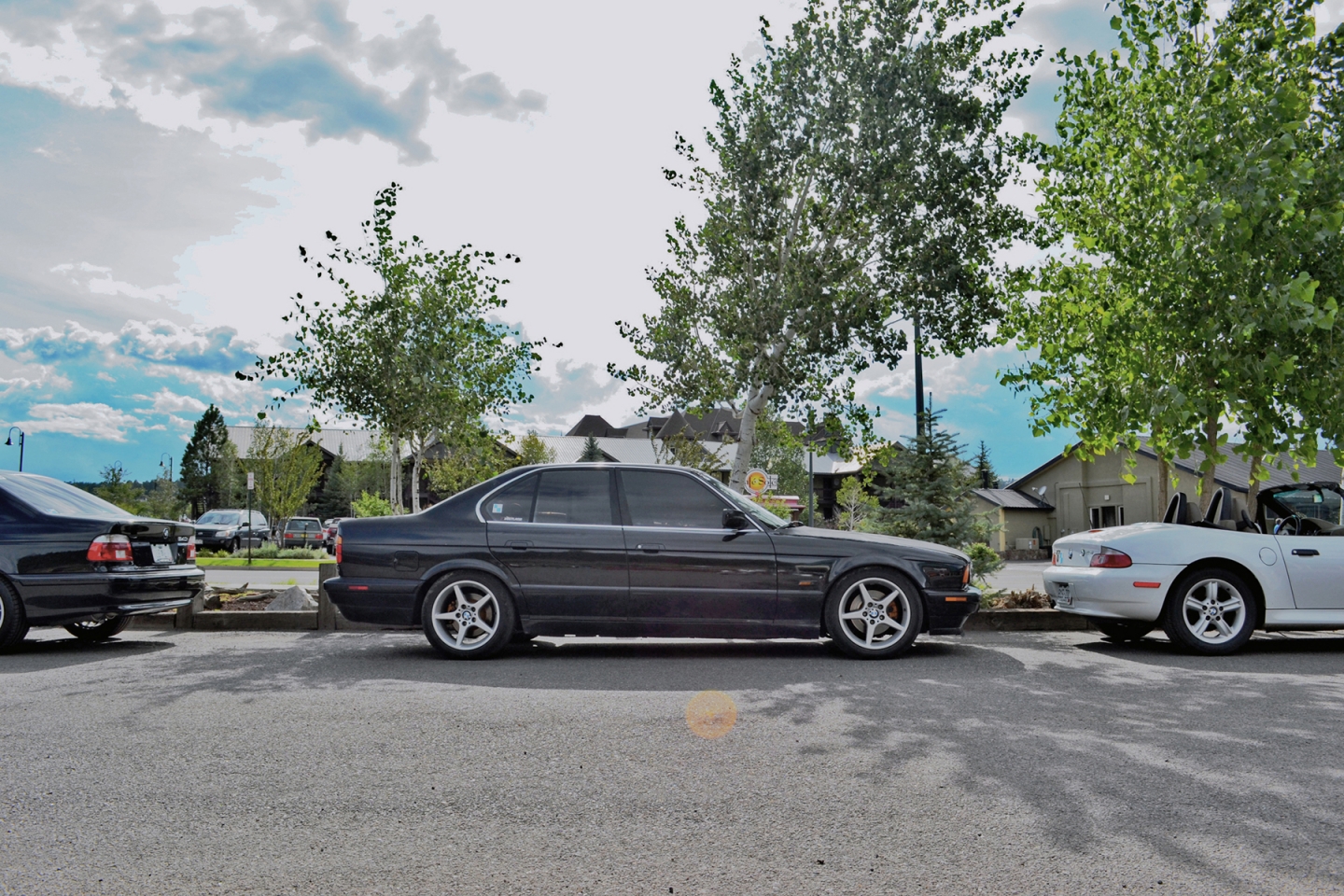 Plenty of food was eaten, drinks were had, and people had an excellent time. The mood of the event was relaxed and informal with participants willing to join in for as much or as little as they are interested in. The BBQ and consequential Raffle meant that everybody who attended walked away with something tangible. Everybody was so busy chatting and having a good time, we didn't get many photos, although there is plenty of footage of this in the highlight video at the top of the page.
The three award winners were: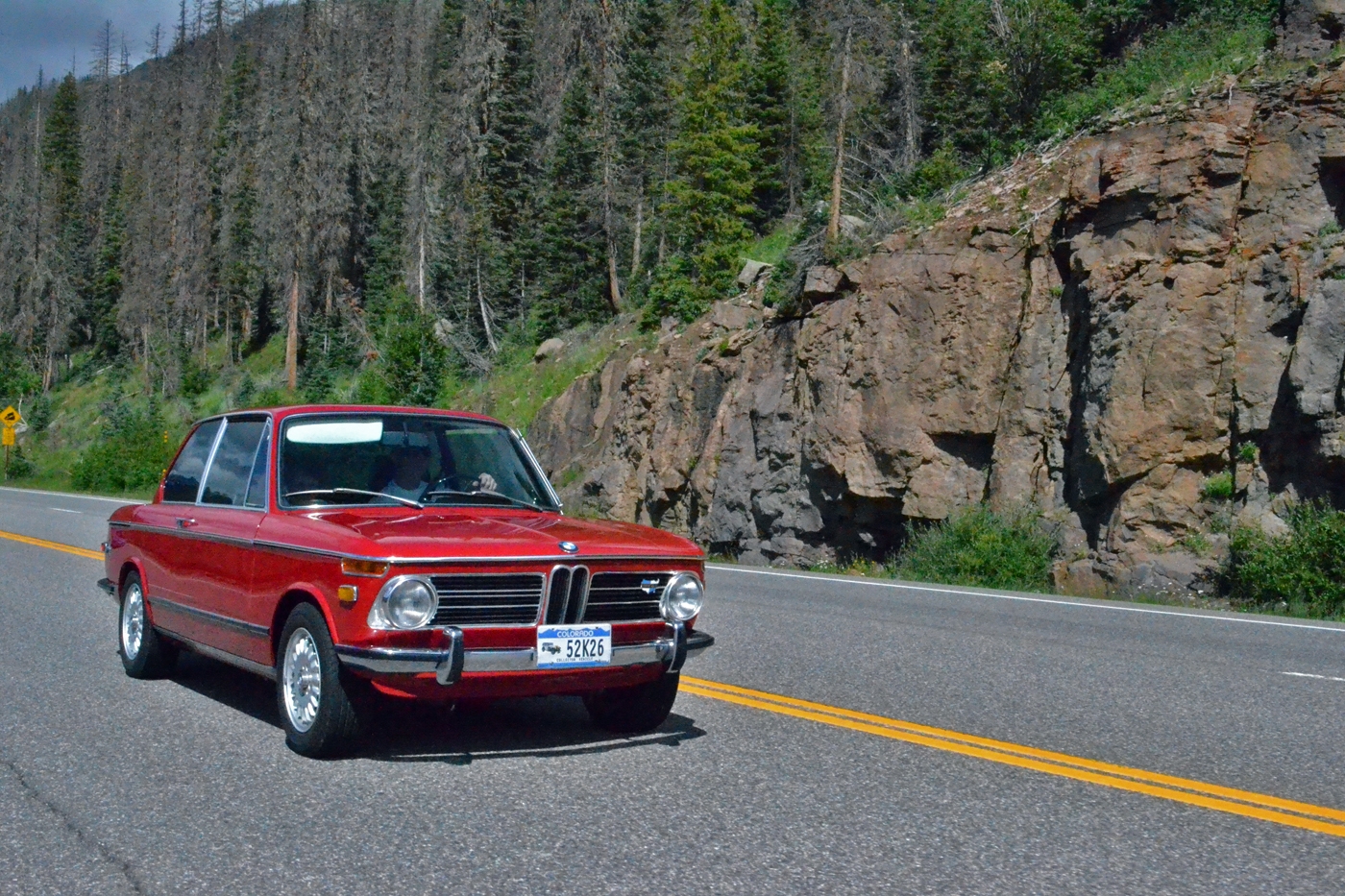 Fan Favorite Jim Kochmann – 1972 2002 (S14 swap)
Denver, CO
---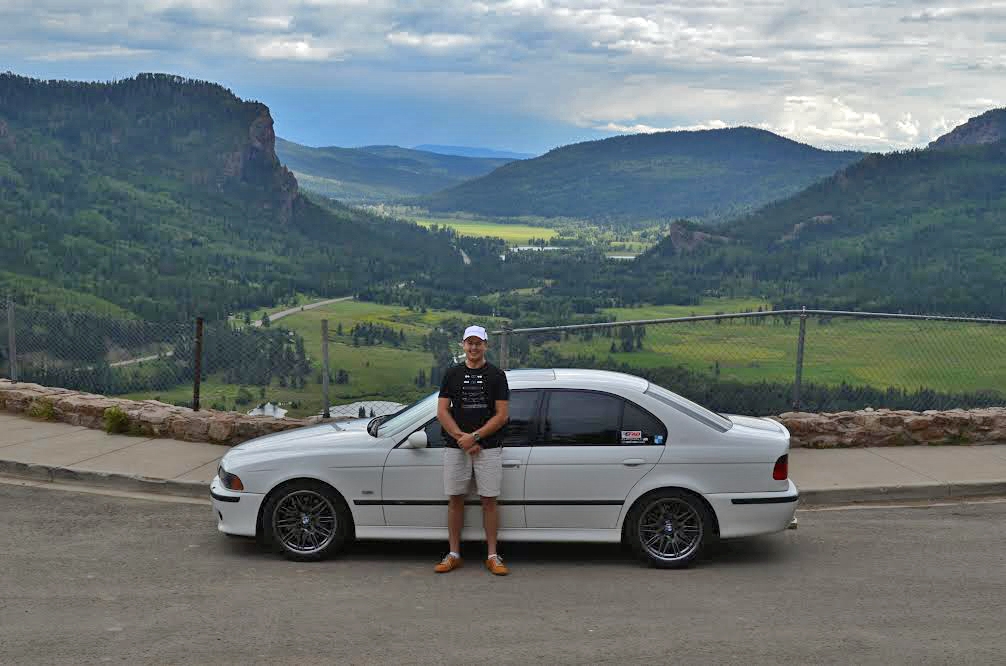 Furthest Travelled Jerzy Banasiak- 2003 M5
Park Ridge, IL
---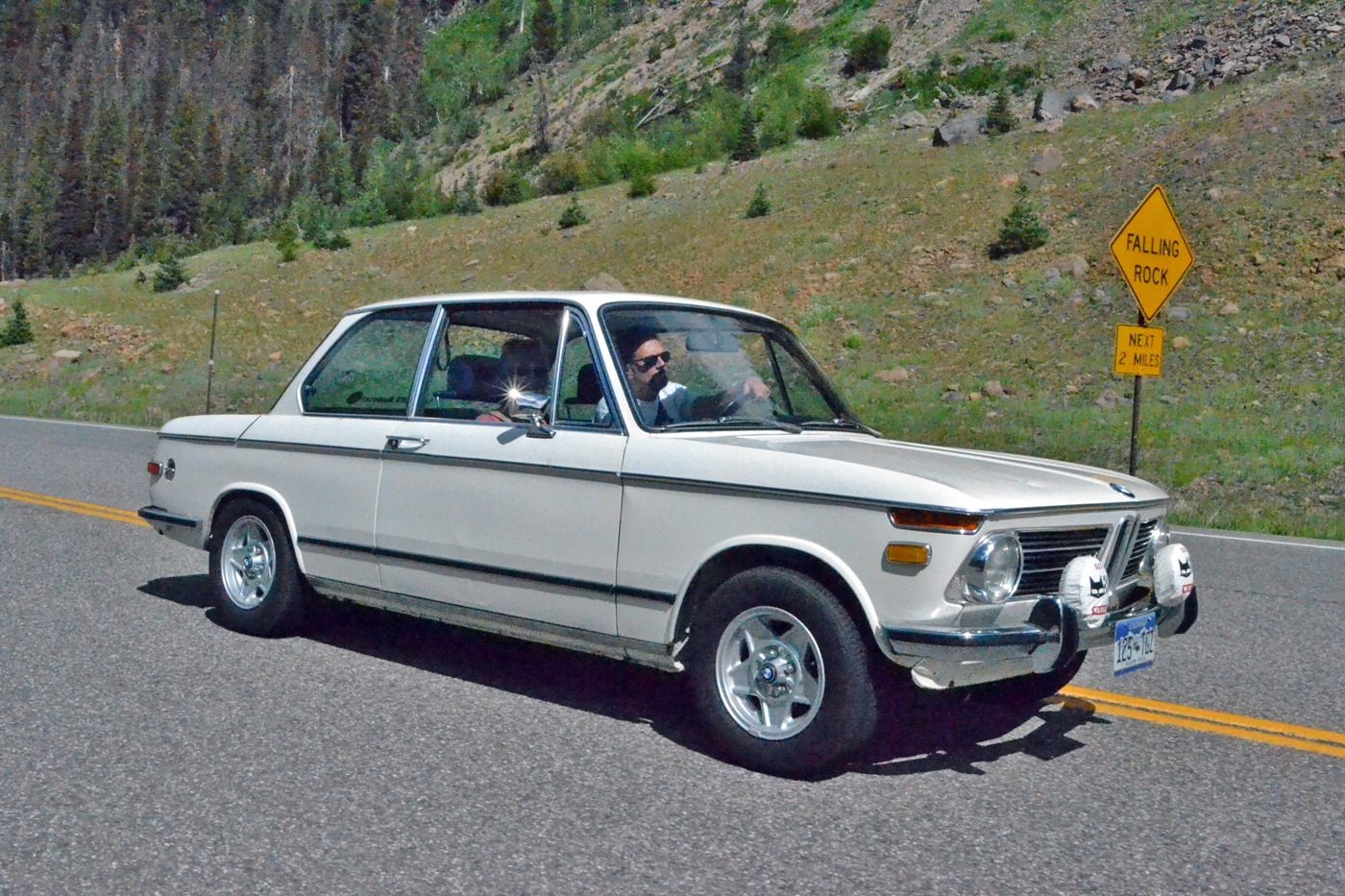 Over the Hill Award Art & Betsy Krill – 1971 2002
Mancos, CO
Slowly people dispersed, and some participants had to head home early… Some participants were able to get excellent night photos.
We hope that you had as good of a time at Drive 4 Corners 2014 as we did, and we thank all participants for supporting us in our event this year.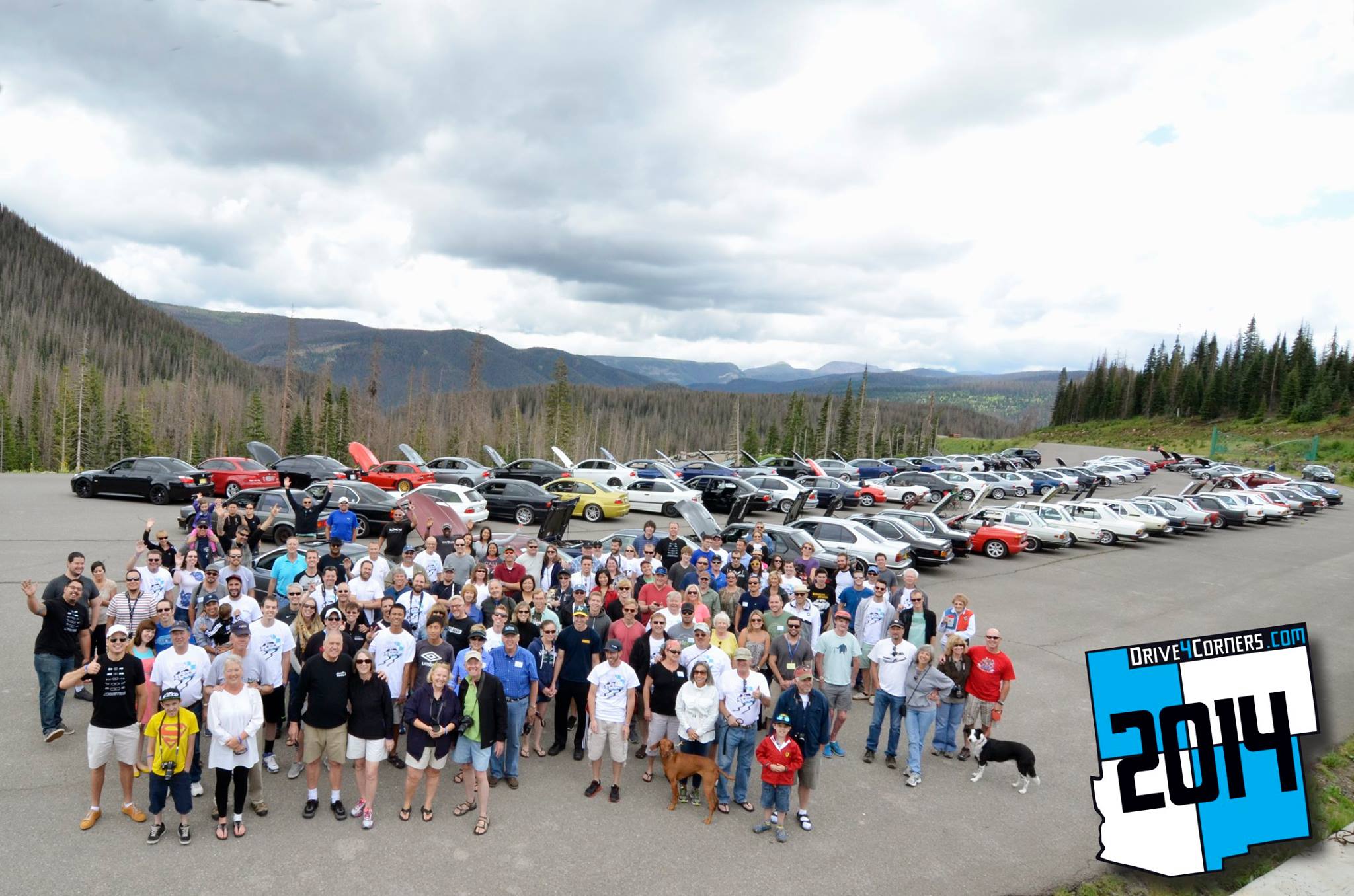 We hope you join us in 2015!
**Photo credit goes to Steve Nowaczek, Aspen Rose, Will Young and Rocket John Nassar. Thank you for your contributions, which have helped to highlight the 2014 event weekend by sharing their event photos.
The following two tabs change content below.
Latest posts by Drive 4 Corners (see all)