Drive 4 Corners 2015 is proud to present the New Mexico caravan as sponsored by Santa Fe BMW.
CLICK HERE for the google map.
---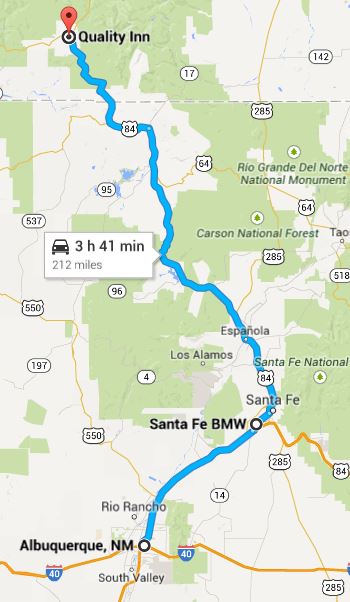 See the route and click for the full schedule .pdf
This is the shortest caravan and begins in Albuquerque New Mexico with a single stop and meeting point of Santa Fe, NM. The route then travels along US-84 along the scenic New Mexico mountainous region, and next to the Cumbres & Toltec Scenic Railroad. Into Colorado and the mountain town of Pagosa Springs, CO provides a relaxing drive up for the New Mexico caravan. As with all caravans, BMW enthusiasts will be converging on a singular destination of Pagosa Springs, Colorado and the Quality Inn (158 Hot Springs Blvd).
————————————–
Contact caravan leader James Irick at: jamesirick@me.com
My thoughts would be meet up at Sandia BMW in ABQ around 11:30, leave around 11:45 for Santa Fe BMW. North out of Santa Fe around 13:15 on US 84/285 through Espanola. A stop at the Rio Chama Chevron will give a quick break before we continue on US 84 to US 160 in CO near Pagosa Springs. It should take about 4 hours total with a stop between Espanola and Pagosa Springs to accommodate bladders… I organized our caravan to O'fest in June and the route is fairly close.
*As with all caravans, liability waivers must be signed by all in order to participate in the caravan.
————————————–
See the route and full schedule .pdf
The following two tabs change content below.
Latest posts by Drive 4 Corners (see all)