Drive 4 Corners 2015 includes BMW caravans from all directions heading towards one central location for our gathering and weekend event. The Utah caravan will start in southern Salt Lake City (SLC) and travel through Moab and Durango to Pagosa Springs, CO. This location provides an exciting route to Drive 4 Corners.
The route will start Friday by meeting at the South Towne Center at approximately 8:45am. Be fueled up and ready to travel the ~200 miles to Moab, the next stopping point. Travelling south east through the plains towards the unique rock formations of Moab will be a great treat. The Spanish Valley and Canyons of the Ancients are unique monuments the group will travel through before arriving in Duango for another break. The last leg of the journey is a mere 60 miles to travel along US-160 towards Pagosa Springs and the Continental Divide.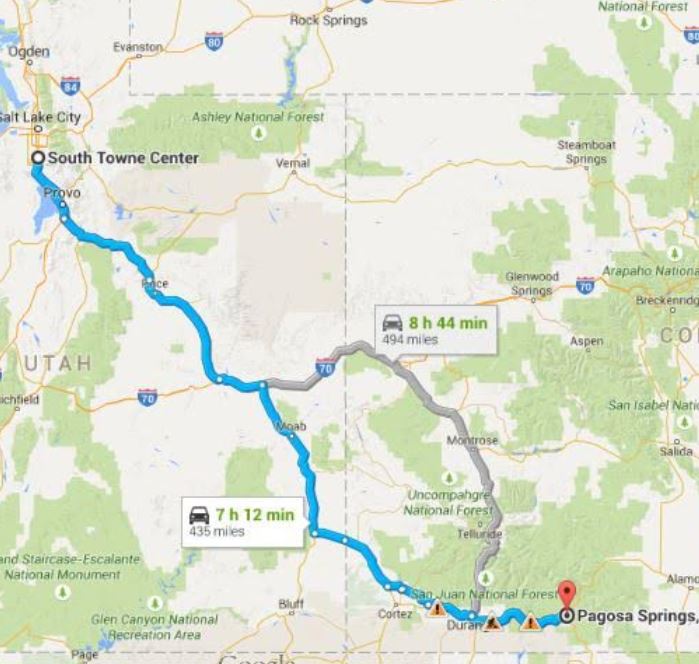 Arrive Approx 8:45am: South Town Exposition Center (9575 State Street, Sandy, UT 84070).
*15min for all participants to arrive, refuel and familiarize with the route ahead.
Depart Chevron/Woody's Food Stores at 9:00apm
Arrive Approx 12:30pm: Moab, UT. Rest stop and stretch break – location TBD in person.
*15-30min break
Depart  at ~1:00pm
Arrive Approx 3:30pm:
The Home Depot, 1301 S Camino Del Rio Durango, CO. Rest stop and stretch break
*15-30min break
Depart  at ~4:00pm
Arrive Approx 5:15pm:158 Hot Springs Blvd, Pagosa Springs, CO 81147
Total time including stops approx: 8h15min.
Caravanleader Mike Rickerd (Nicolasclages@gmx.de)
Click for Full Route and Itinerary .PDF
The following two tabs change content below.
Latest posts by Drive 4 Corners (see all)