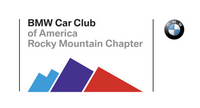 With only two weeks until the start of Drive 4 Corners, the official schedule and route map for the Colorado caravan has been put together and is ready for distribution! All participants are encouraged to attend as the individual caravans from UT, CO, TX, NM, and AZ officially kick off Drive 4 Corners 2015. Be sure to bring your camera, we will have a large group, which we will actually split into two separate driving groups, each with 20+ cars! See below for route and schedule information for the group drive.
The route combines scenic highway driving with an engaging twisty run through the canyon adjacent to Cañon City (there's a reason for the name!). The end of Texas Creek and the adjacent canyon road lead us to our final meeting point, Salida, CO. This will be our main fuel point and bathroom stop. It will also serve as a great location for anybody heading south from Denver or the mountains along 285 to join up with us the group. Departure time from Salida will be 1:30pm (sharp) with the last ~2.5hour leg of the trip to go. Things open up a bit with some scenic views as we drive past The Great Sand Dunes, until we get near Del Norte and merge onto US-160. From here out, no more turn offs are required, and it's an excellent drive up and back down the Continental Divide to Pagosa Springs. This was voted as the consensus #1 route to get to Pagosa Springs by the Drive 4 Corners Team.
---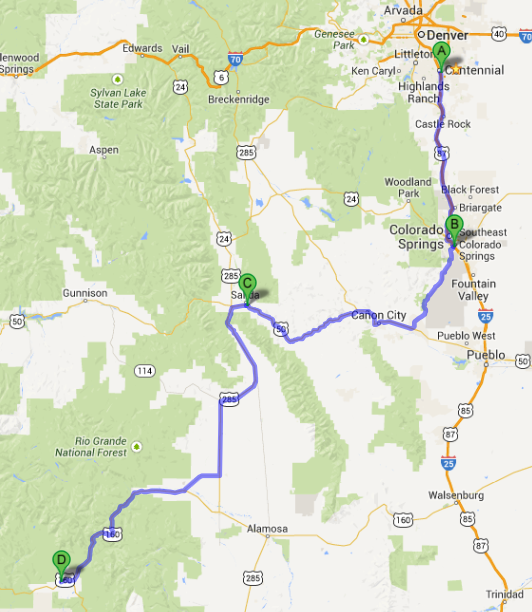 Click Here for Link to full route .pdf!
Primary Meeting Point: 8:45am @ Park Meadows Mall JC Penney (8401 S Park Meadows Center Dr) We will gather up waivers and familiarize everybody with the route. Ask questions and be ready to hit the road at exactly 9:15am!
DEPART
: 9:15am and travel south along I-25 towards Colorado Springs.
Secondary Meeting point:
10:15am
@ The Parking Lot next to La Quinta Inn (
2750 Geyser Drive
)
Additional participants from the Colorado Springs area will be waiting for the Denver caravan to approach. Please use restrooms(A few gas stations are on Lake Ave/Circle Drive) and fill up on gas for a 10:45am sharp departure! Two caravan groups may split up, but will only be ~5 minutes apart.
DEPART
: 10:45am sharp and travel to Hwy 115 and US-50 towards Canon City.
Lunch Stop
: ~12:30pm in Salida, CO. Lunch will be on your own as there are a restaurants right on the strip. Refuel if necessary and meet back for departure at Murdochs parking lot (
201 E. Rainbow Blvd
.)
Two driving groups will split with an early bird and late bird group.
DEPART: 

1:00pm
OR
1 Hr Lunch Stop,

depart by 1:45pm

.
Follow Poncha Pass over to Del Norte towards Wolf Creek. US-160 is a straight shot to Pagosa Springs. This will allow arrival to be ~3:30pm for the initial group, and 4:15pm for the lunch stop group.
D4C volunteers will be at both Park Meadows and Colorado Springs locations. Email info@drive4corners.com for additional information if you have caravan questions or concerns.
*Notice: To be part of the caravan, all participants must sign the release waiver for liability reasons before we depart.
The following two tabs change content below.
Latest posts by Drive 4 Corners (see all)