Probably by now you have heard of, or seen the BMW i3. The new electric car is quite a testament to BMW's focus on providing a green solution to the commuter vehicle market. Some may be not be all that interested because of the unique look, but new ideas and different approaches are what lead to successful products. A perfect example of this is the BMW 'Neue Klasse' of cars from the 1960's. While still struggling to claw out of financial ruin, BMW moved away expensive and gaudy V8 (such as the 3200CS Bertone) models to a more economical vehicles, such as the BMW Isetta models and the BMW 700. The micro cars and economical 700's were the groundwork for the new and different 'sport sedan' models to follow. The famous article from Car and Driver probably illustrates this the best.
But this article is not about the Isetta, nor the BMW 2002. Just as those cars were recreating the modern era of automobiles, so again is BMW recreating the definition of an automobile. The i3 is centered around the idea that a green, efficient, vehicle has a specific purpose, but it does not have to be boring. The i3 isn't designed to be a sports car, but it was designed to be a joy to drive. Just listen as autofocus.ca reviews the new electric machine:

Even a quick glance tells you the BMW i3 is not your ordinary BMW. As one of the first two models in BMW's new environmentally friendly "i" sub-brand, the i3 is free from the packaging constraints automakers typically encounter when placing electric components in a vehicle that was never intended to have them. It is also free from the historic expectations of what people expect a BMW to look like, drive like and be powered by.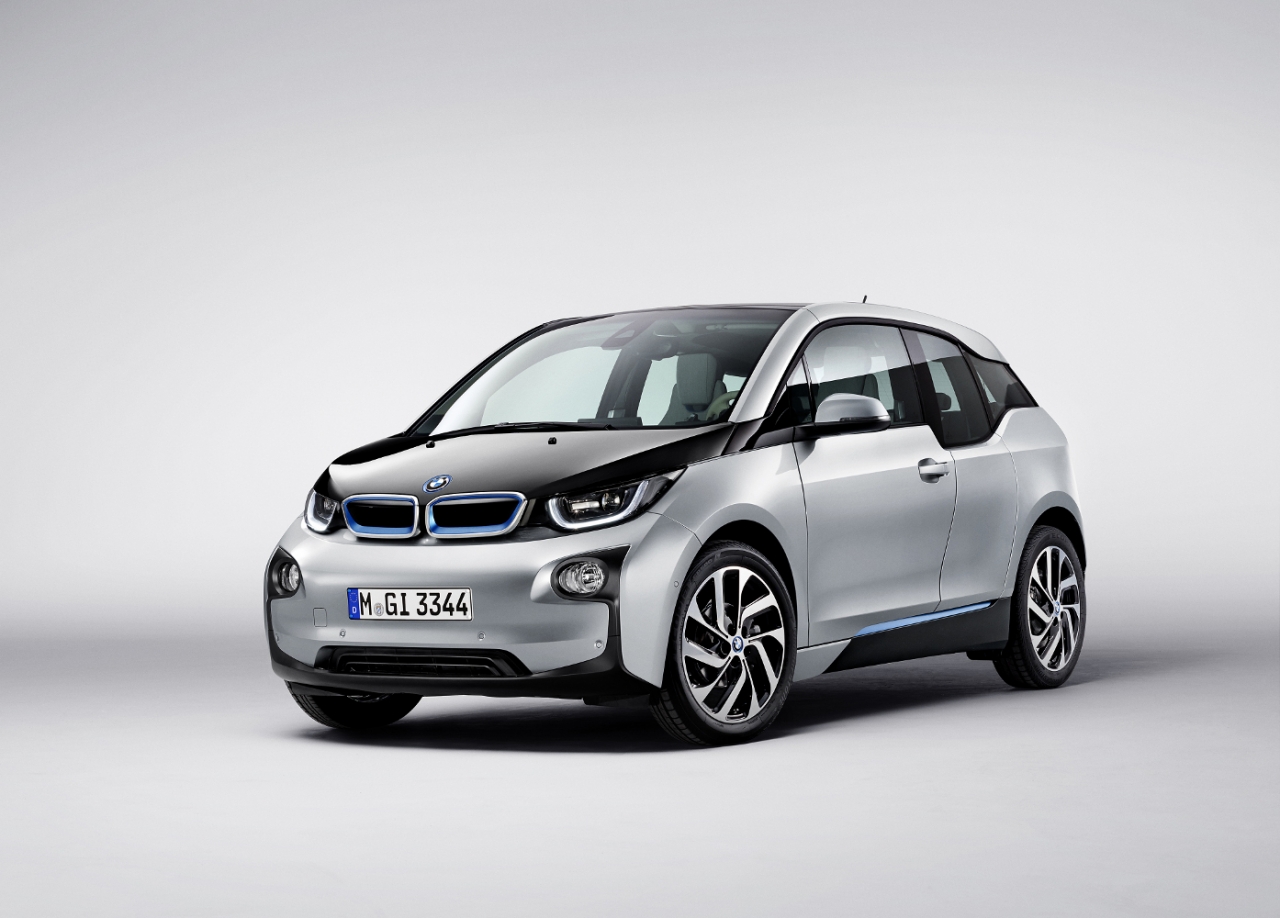 The result is a car that quite obviously looks unlike any BMW that's come before, but also one that is one of the most innovative on the road. At the same time, it still adheres to the fundamentals of the BMW brand: rear-wheel drive, responsive handling, a composed ride and energetic performance. The essentials of functionality, innovation, and energy-efficiency form the basis of the entire design.
While the i3's styling is controversial, what is beneath the surface is nothing short of extraordinary. The mechanical undercarriage and battery housing are constructed of lightweight aluminum, while the upper body structure is carbon fiber, which is of course the same ultra-lightweight and ultra-stiff stuff that racecars and other really expensive things are made out of. You can even see the telltale black weave pattern in the door sills and on the black roof. This keeps the i3's weight down by hundreds of pounds compared to other electric cars, which means a smaller battery is required, less energy is consumed and your electricity bill will be lower.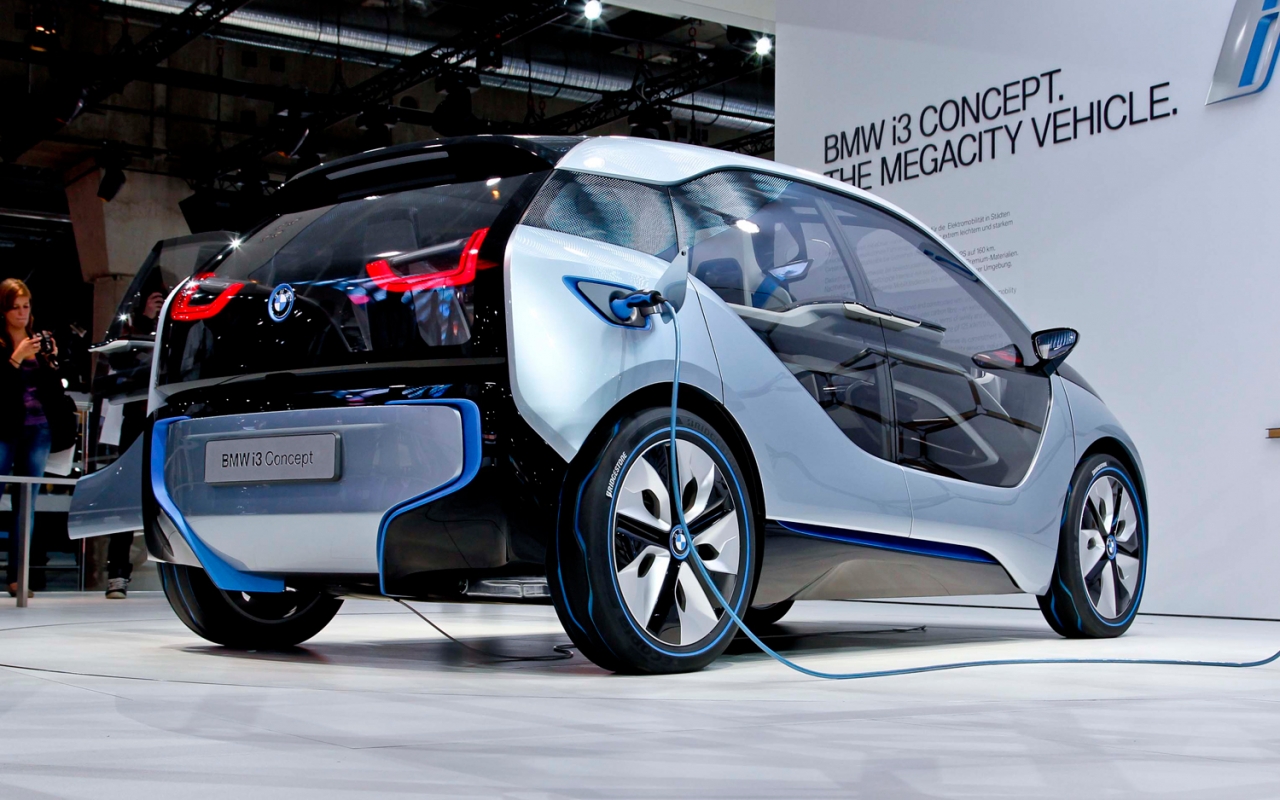 On Edmund's official test route, the i3 was able to go about 96 miles before being completely drained and, on average, they found the EPA's estimate of 81 miles to be accurate. This obviously isn't ideal for every commute, so buyers looking for a little extra peace of mind can opt for a "Range Extender" variant that comes with a small gasoline-powered generator that recharges the batteries to roughly double the all-electric model's range. That means it can still only travel about half the distance of a full-fledged plug-in hybrid like the Chevrolet Volt, however. In Edmunds testing, the i3 went 95.8 miles on a single charge. This is a few miles shorter than other, similarly priced EVs, but still acceptable for most commutes. They also confirmed the EPA's estimate that the i3 will average a range of about 80 miles. Switching to the Eco Pro or Eco Pro+ modes can eke out a few extra miles of range, but you have to live with dulled accelerator response and/or weakened air-conditioning. The EPA rates this powertrain's efficiency at 27 kWh used per 100 miles driven (Remember: the lower the number here, the better.). For comparison, the Nissan Leaf is estimated to use 30 kWh per 100 miles.
With a REX-equipped i3, you'll never have to worry about getting stranded on the road because you ran out of electric power. As soon as the battery pack gets low, the gasoline generator automatically turns on to provide enough power to keep you going. But this is more of a safety net than a true propulsion mode. The i3 is noticeably slower when relying on the generator, and the motorhome-like generator's noise is unavoidable. At least, however, you can still get home or make it o a charging station for some electricity.
While virtually all battery-powered cars offer snappier acceleration than most people expect (thanks to the instantly available torque characteristic of electric motors), the 2014 BMW i3 turns out to be even quicker than the norm. The BMW i3 is powered by an electric motor fed by a 22 kWh lithium-ion battery pack located beneath the floor. The resulting 170 hp and 184 pound-feet of torque is sent to the rear wheels. In Edmunds performance testing, the i3 went from zero to 60 mph in 6.6 seconds, making it by far the quickest electric vehicle we've tested other than the more expensive Tesla Model S.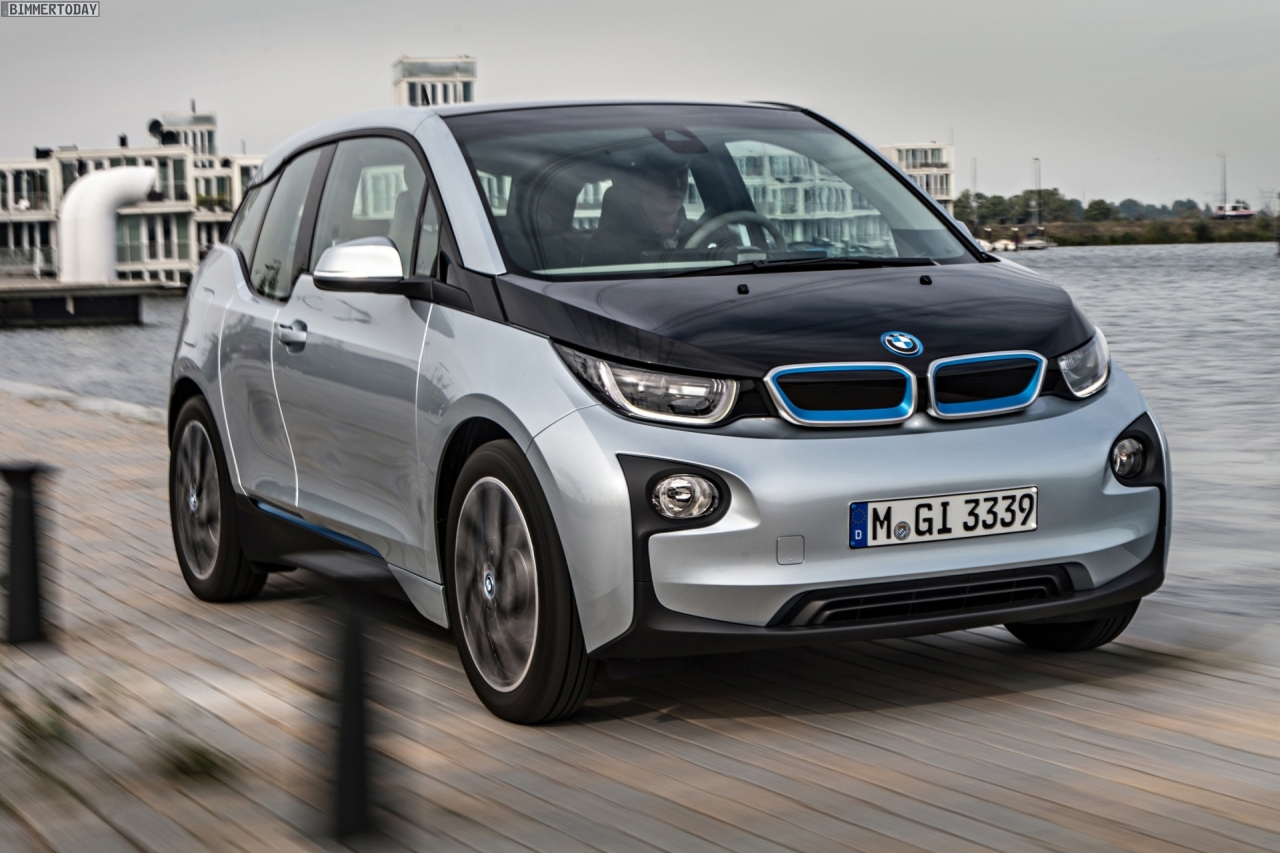 The lightweight construction and innovative packaging also aids performance and interior space. Not only is the i3 the quickest pure electric vehicle we've tested other than the Tesla Model S, but its low center of gravity and ideal 50/50 weight balance means that, when combined with the car's wide stance and BMW-tuned suspension, this is one of the most fun-to-drive electric cars on the market.
Charging times range from more than 20 hours when plugged into a normal 110-volt household outlet down to about four hours using a 240-volt outlet. The optional DC fast-charging system can fully recharge the battery in just 30 minutes.
The i3 Range Extender model incorporates a small two-cylinder gasoline engine (with a 2.4-gallon fuel tank) that serves as a generator to supply recharging electricity to the battery back. So equipped, the i3's range rises to about 150 miles. This is still much less than genuine plug-in hybrids like the Chevrolet Volt or Ford Fusion Energi, though.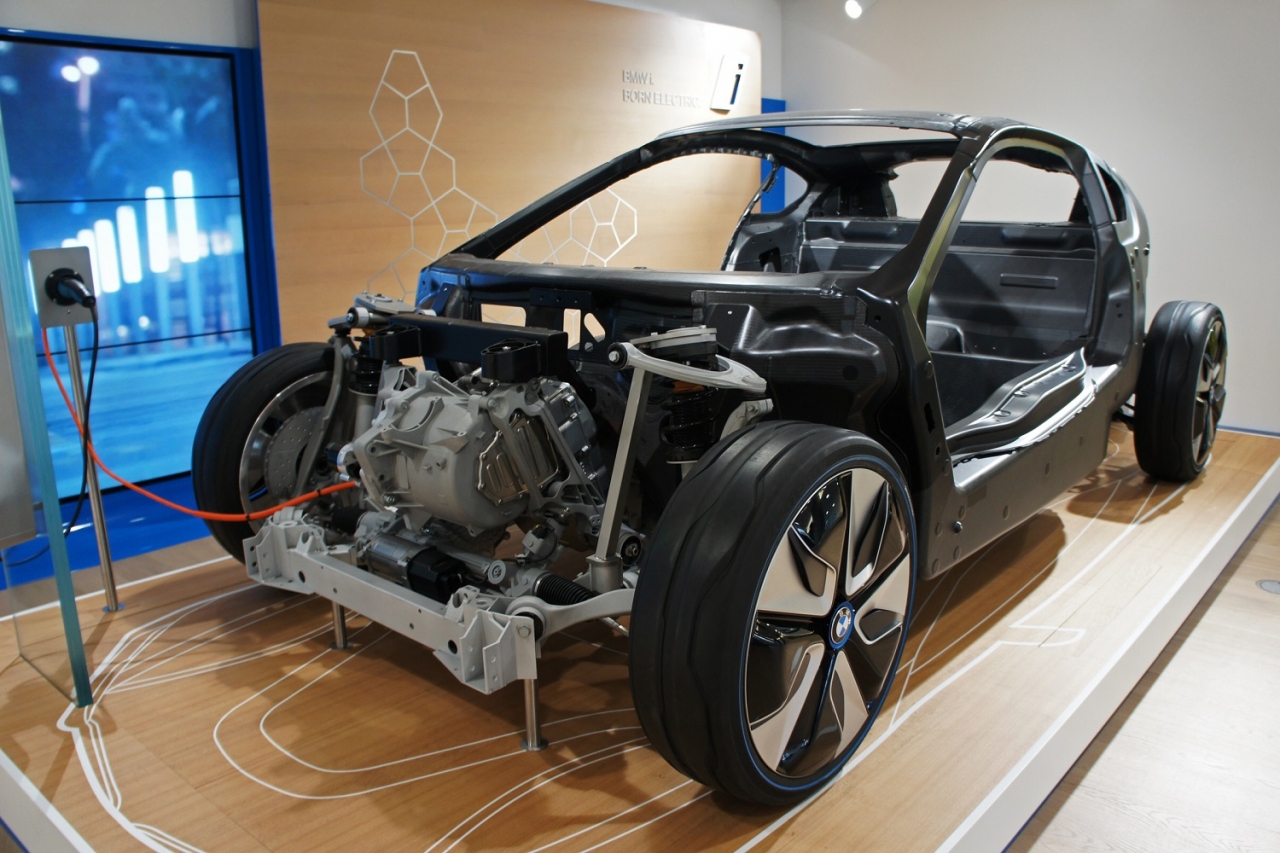 Also, because of the extra weight of the two-cylinder electric generator onboard, the 0-60 time for the i3 REX slows to 7.1 seconds. When the battery is depleted and the i3 REX relies on the generator, the 0-60 time slows dramatically to 13.7 seconds. In addition, the EPA says electric-only range drops to 72 miles (though we achieved 87.6 miles in our testing) and energy usage rises slightly to 29 kWh/100 miles.
But what about functionality? Most electric vehicles are not very realistic due to their size.
The i3 is a four-door hatchback with seating for four passengers. offered in equally equipped full electric and Range Extender models. Both come in three different trim packages: base Mega World, Giga World and Tera World.
The entry-level Mega's list of standard features includes 19-inch alloy wheels, LED lighting (automatic headlights, taillights and running lights), automatic wipers, auto-dimming mirrors, cruise control, rear parking sensors, automatic climate control, "SensaTec" premium vinyl and cloth upholstery, 50/50-split-folding rear seats, a leather-wrapped tilt-and-telescoping steering wheel, Bluetooth phone connectivity, a navigation system, the iDrive electronics interface with a 6.5-inch screen, and a sound system that includes a USB audio interface, an auxiliary audio jack and HD radio.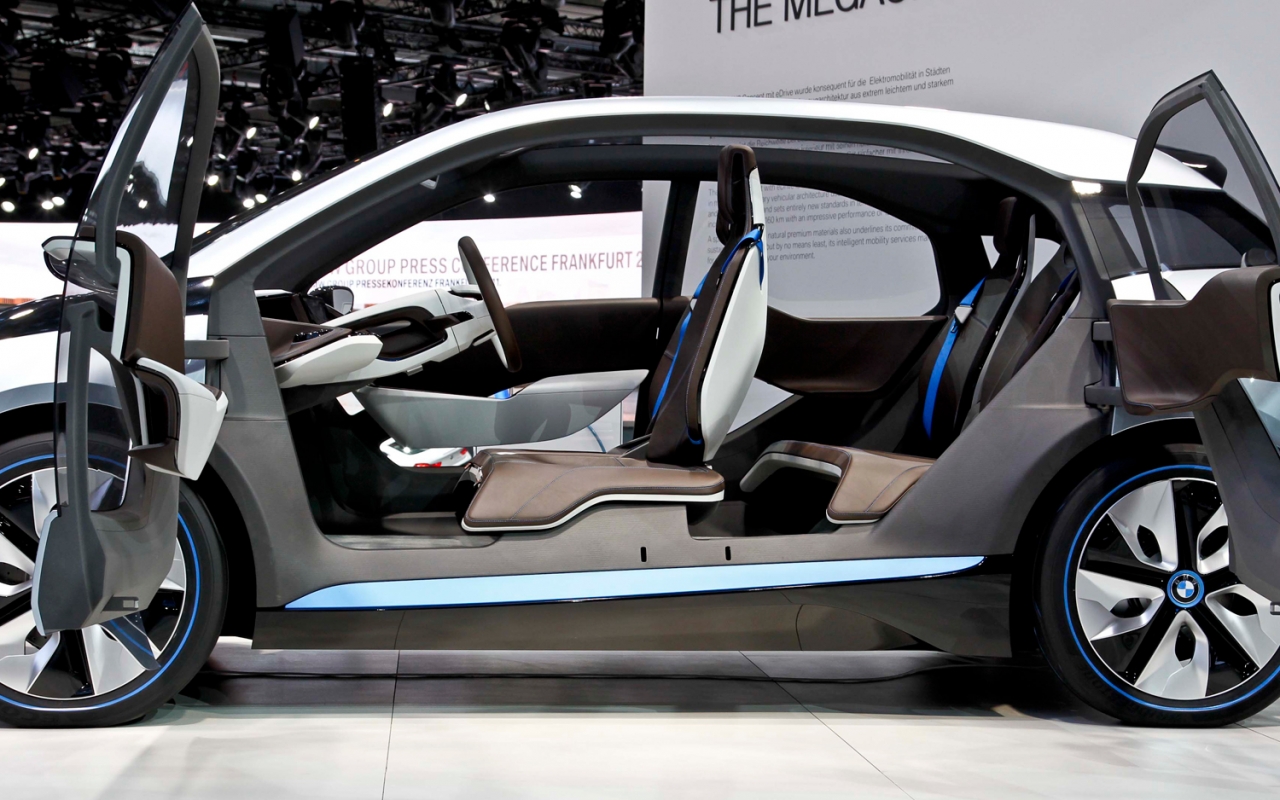 Stepping up to the Giga model gets you distinctive 19-inch alloy wheels, a sunroof, keyless ignition and entry, unique upholstery (a mix of naturally tanned leather and breathable wool cloth), genuine eucalyptus wood trim and satellite radio. The top-of-the-line Tera only differs from the Giga with its own unique 19-inch alloy wheels and full leather upholstery.
Options include a Technology + Driving Assistant package that includes adaptive cruise control (with stop-and-go capability), a lane-departure warning system, forward collision warning with collision mitigation and pedestrian detection, an upgraded navigation system (with a wider screen and enhanced EV-related information), real-time traffic and BMW's Online and Apps services. The Parking Assistant package adds front parking sensors, a rearview camera and an automated parallel parking feature. Stand-alone options include 20-inch alloy wheels, heated front seats, an onboard DC fast charging unit, and a 12-speaker Harman Kardon premium audio system. The feature packed optionlist sets the i3 apart from other electric vehicles.
Inside, the lack of a central tunnel (it's normally for a car engine's exhaust and/or driveshaft) frees up floor space in both seating rows, while the airy cabin and under-floor batteries create a high seating position and commanding view of the road. There is room for four full-size adults to comfortably fit, while the fold-flat rear seat makes the i3 one of the more practical electric vehicles. The cabin's design has a decidedly futuristic feel thanks to the free-floating steering column, quirky shift lever, flat-panel displays and environmentally friendly materials. It's really unlike anything you've ever seen before.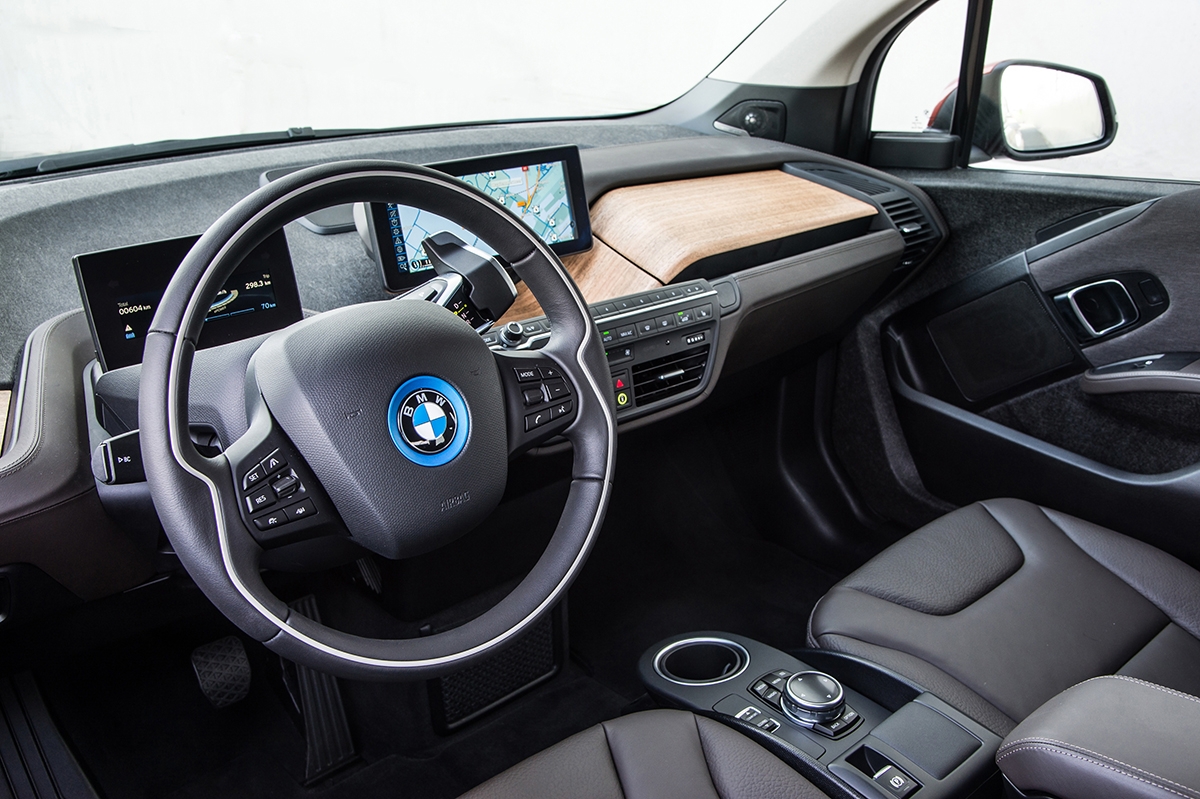 The raised front seats offer good comfort and outward visibility, while the two-person rear seat offers decent legroom and excellent headroom courtesy of the i3's tall roof line. Getting in the back is a two-step process, as you must open both side clamshell doors to get back there. This design isn't ideal for families or tight parking spaces. Cargo capacity is on the small side, with just 11.2 cubic feet behind the rear seats and a total of 38.8 cubic feet with those seats folded down. Unlike most EV competitors, though, those seats fold flat and the trunk space itself is unfettered by oddly shaped protrusions created by batteries being stuffed in places they weren't meant to be. Maybe BMW took a hint from their 2000 Touring model of years past on this one?
As fanciful and unusual as the cabin is, the designers retained the typical array of climate and infotainment controls typical of other BMWs. In particular, the i3 features the latest version of BMW's iDrive controller, which is pretty easy to use thanks to straightforward menus, crisp graphics and quick processing times.
Like the exterior, the interior of the 2014 BMW i3 is the result of a thorough reimagining of a car's passenger cabin. The space is remarkably quiet and the look is stylish and modern, with its thin flat-panel display screens and the unique shifter pod mounted to the far-telescoping steering wheel. The different trim packages, or Worlds, each provide a different ambience due to their unique mix of renewable, recycled and otherwise eco-friendly materials. Giga World is certainly the most intriguing, with its gray wool cloth, leather upholstery (tanned using an olive leaf extract) and eucalyptus wood trim (certified as responsibly forested) that give the cabin an ultra-cool, upscale ambience.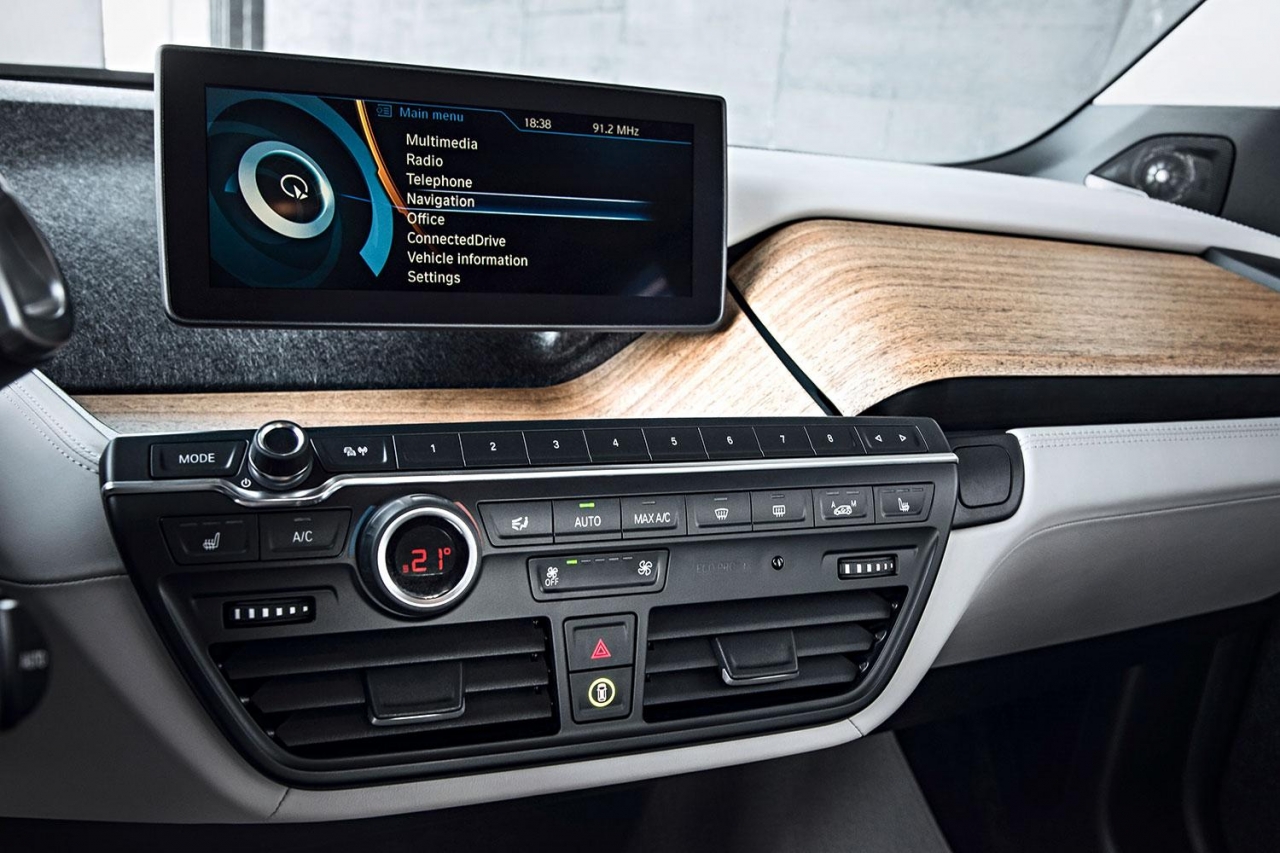 Hit the road and the first thing you'll notice is the i3's aggressive regenerative braking system. While all electric cars (and hybrids, for that matter) use this technology to transform the kinetic energy generated when the brakes are applied into electricity to recharge the car's battery pack, the i3's system is designed to slow the car dramatically whenever you lift your foot off the accelerator. While this can be disconcerting at first, you find yourself adapting quickly enough that you'll eventually wind up using the actual brake pedal only when you need to stop more aggressively. It makes sitting in stop-and-go traffic far more pleasant.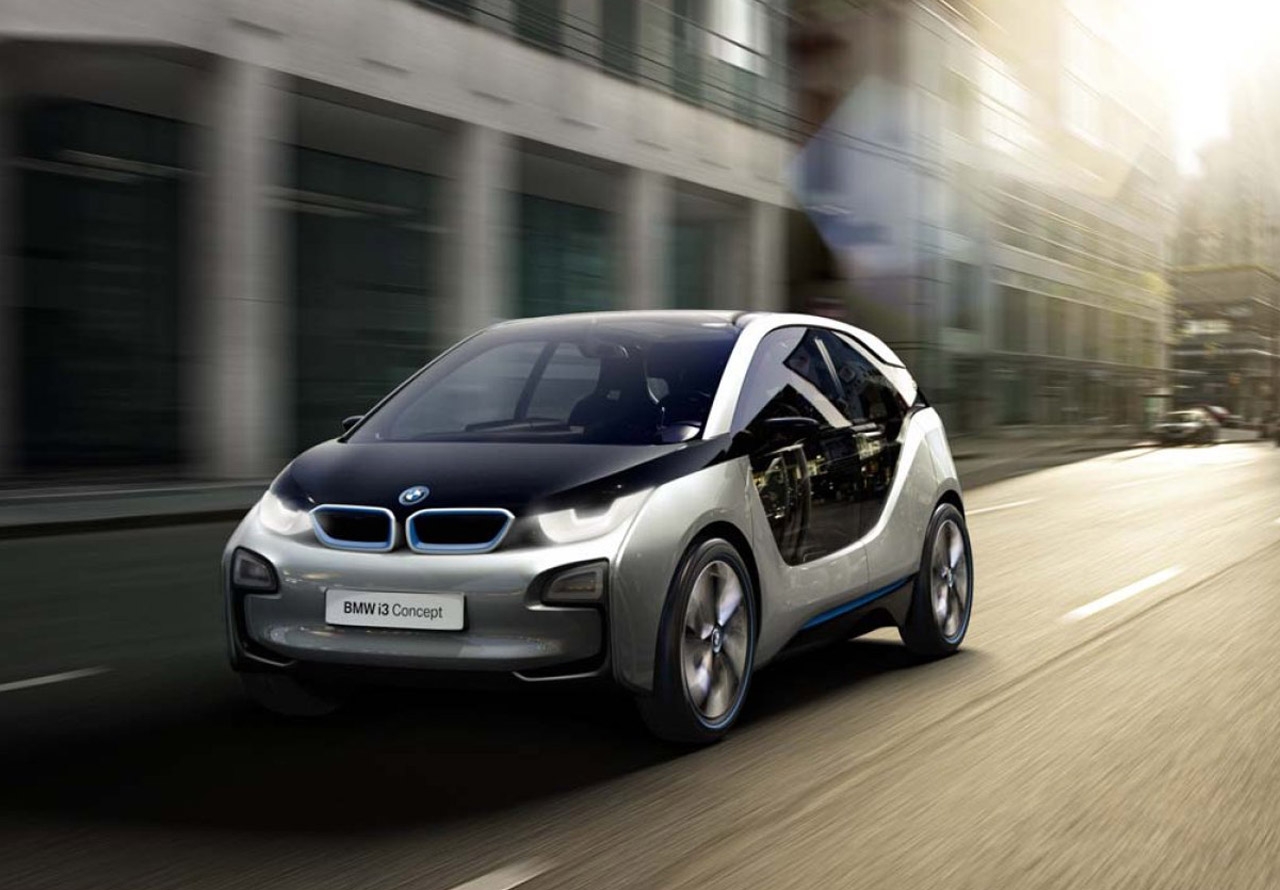 Standard safety features on the 2014 BMW i3 include antilock disc brakes, stability and traction control, front seat side airbags and full-length side curtain airbags. Also standard are BMW Assist eCall and Remote Services, which include automatic collision notification, an emergency request button, stolen vehicle recovery, remote door unlock and a remote control smartphone app.
Rear parking sensors are standard and a rearview camera and front parking sensors are available as options. Among its other add-ons, the Technology + Driving Assistant package includes a lane-departure warning system and forward collision warning (with pedestrian detection) that includes automatic braking for frontal collision mitigation.

In Edmunds brake testing, a standard i3 came to a stop from 60 mph in 109 feet, while a heavier range-extender model came to a stop in 111 feet. Both distances are superb for the segment, especially considering the skinny, low-rolling-resistance tires that are fitted to optimize efficiency.
While the i3 can't match BMW's traditional models in terms of handling prowess, the combination of its rigid body structure, light weight, low center of gravity and ideal 50/50 front-to-rear weight distribution make it more fun to drive than its competitors. Its tight turning circle, precise steering and small size give it a decidedly nimble feeling at slower speeds, making it a natural at navigating crowded urban streets and slipping into tight curbside spots owners of many larger EV models have to drive right on by.  Ultimately, the i3 represents a particularly successful achievement of its creators' singular goal: producing a new model worthy of being dubbed the ultimate green driving machine. Ride quality is also more livable than other cars this size, though one knock to the car is that the i3's narrow tires are a bit susceptible to following grooved highway pavement. The other argument is that the quiet interior makes road noise more pronounced, which tires the driver a bit. This is a challenge many of the electric vehicles of the future will have to overcome, however.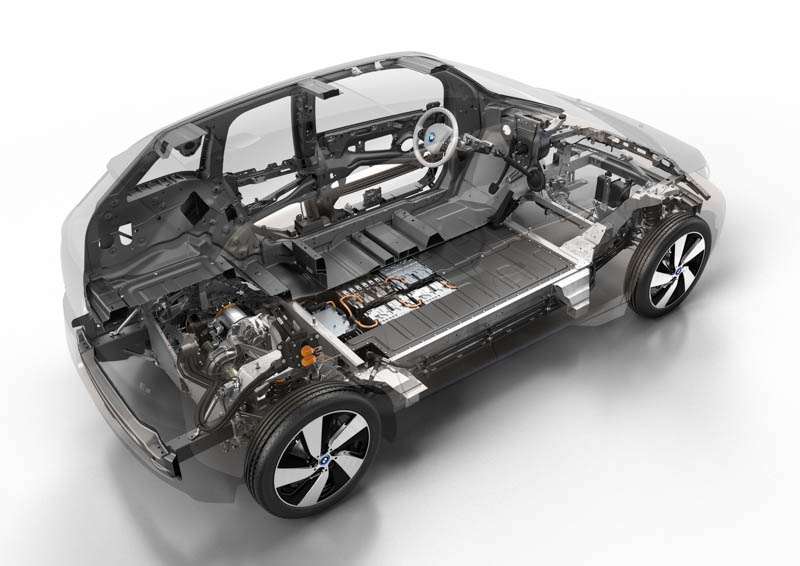 As for alternatives, there aren't any all-electric cars that can match the i3's sporty performance, interior usability and upscale amenities, save for the considerably more expensive Tesla Model S. The Mercedes B-Class Electric Drive is the i3's most direct rival. It's more spacious than the i3 but less efficient, not as upscale and only available in a few select states.
The results are in from 2014, and the i3 exceeded expectations in units sold. Originally, BMW planned to build 10,000 copies of its innovative i3 electric/plug in hybrid a year. But when the final numbers for 2014 were tallied, the total came to almost 18,000 cars. Nearly three-quarters of these sales occurred in the second half of the year, when the global rollout — including the US — really got underway. "Demand for these vehicles continues to be high and I'm delighted that we've been able to increase production to meet that demand."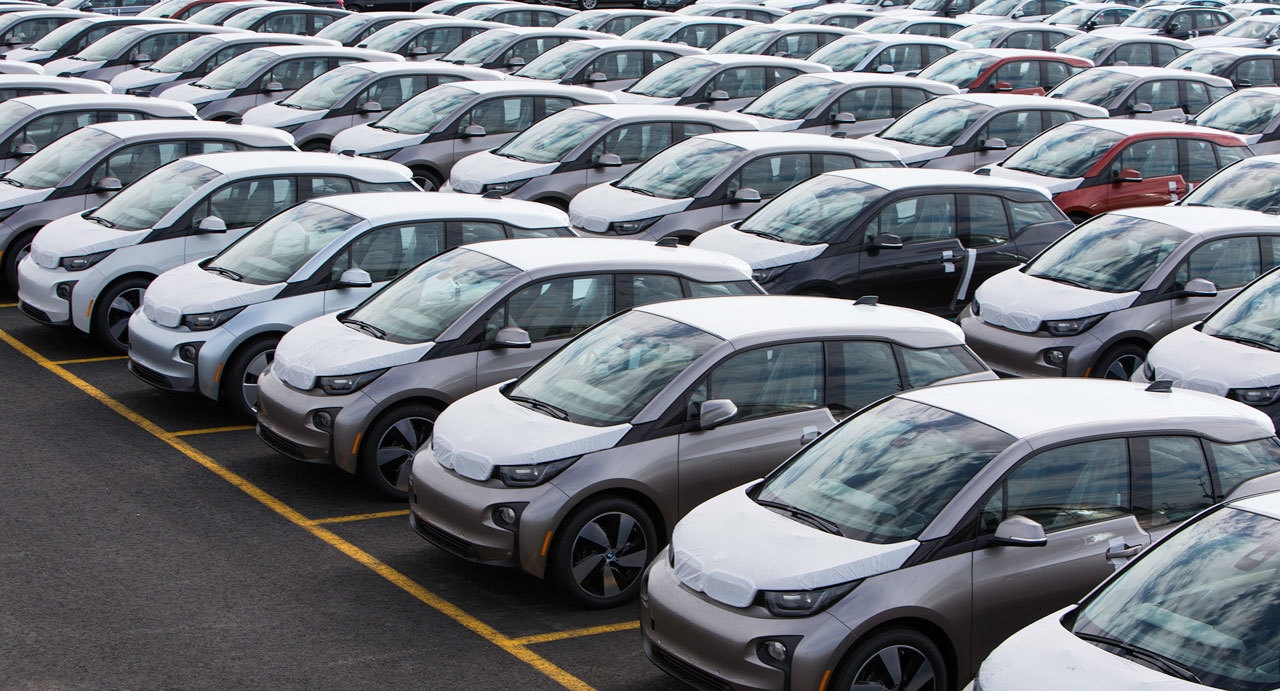 Quite simply, there is nothing else quite like the i3 on the market. "This is, without a question of a doubt, the most advanced vehicle on the planet," said A. Sandy Munro, chief executive of Munro & Associates, in an interview with Forbes. "It's as revolutionary as the Model T was when it came out." While BMW's CFRP technology is revolutionary in the car business, it is also drawing interest from other industries. "We're not just selling this [information] to car companies," says Munro. "Airplane companies, high-speed rail companies, even people making furniture are interested in this car because it's that revolutionary."
The following two tabs change content below.
Latest posts by Tom Schultz test #2 (see all)