The Drive 4 Corners 2013 informational event packet is now available for distribution! Feel free to click the image below to open the .pdf informational packet. This includes all the information regarding the schedule of activities. Officially, Drive 4 Corners kicks off with the departure of the Denver Caravan (click for more information) early August 9th.
If you can, feel free to join up with the convoy at any of the meeting points along the route.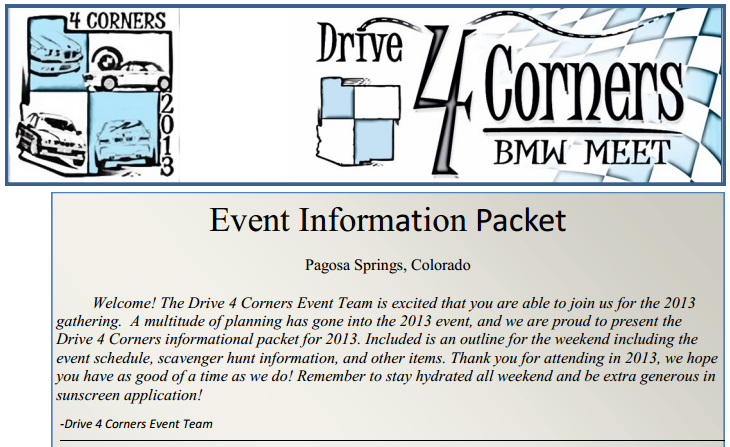 Don't forget to put your creativity to good use by filming parts of your journey, along with different parts of the event in order to be featured in the Drive 4 Corners Highlight Video! Your submissions will help us to engage more people for 2014, and allow us to show off the unique journeys of those in attendance.
If you don't have time to create a video, be sure to upload a few photos to our User Gallery! These photos can be pictures of your car in different locations along the journey, or they can be images from your Scavenger Hunt! The more the better! We want to engage all participants so that more people are talking about Driving the 4 Corners!
Lastly, Hot Air Balloon spaces are still available (although limited). Payment is needed in advance to secure your space. Horseback riding has 4 slots available, email info@drive4corners.com to get your space reserved.
The following two tabs change content below.
Latest posts by Drive 4 Corners (see all)